Perodua brightens up autumn with 2-2-200 offer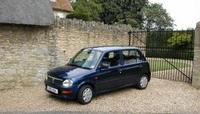 Perodua have reinforced their reputation for providing value for money with the launch of an incredible 2-2-200 offer which consists of three key elements: a fantastic new finance scheme, an improved peace of mind package, and an unbelievable £200 cash back.
The complete Perodua range is now available for an amazing £2 deposit, with low monthly payments, through Perodua Financial Services. Perodua's dealer network can now tailor finance plans to suit all pockets, which now makes the Perodua range accessible to all budgets.
All Perodua vehicles now provide 2 year's peace of mind motoring with a second year of Britannia Rescue which covers the vehicle for home start, roadside assistance, recovery to owner's home or destination and hotel accommodation where necessary. The additional cover would usually cost customers well in excess of £100, but as part of the 2-2-200 offer Perodua have included this at no extra cost.
Completing the 2-2-200 offer Perodua are giving anyone who purchases a new Kelisa GXi/EZi or Kenari GX/EZ £200 cash back, absolutely free. All customers need to do to take advantage of the incredible free £200 special offer is contact Perodua UK via phone on 01491 415230 or email perodua@emhplc.com to request a £200 voucher which they should present to their Perodua dealer when purchasing their new car. We will then send the customer a cheque for £200 – it's as simple as that!
Perodua's affordability has never been in question, with high standard specifications across the range and prices starting from just £4,699 for the Kelisa EX entry level model, but the launch of the 2-2-200 offer makes the complete Perodua range unbeatable value for money.