Automatic value with Perodua SE packs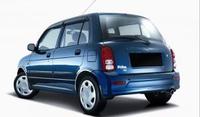 Perodua UK have always provided unbeatable value for money but have never compromised on equipment levels. Therefore, Perodua are delighted to announce the launch of their new SE models which provide even higher levels of specification at remarkably low prices.
The highly equipped Kelisa EZi automatic now has an increased level of specification which includes an RDS radio/cassette player and reverse-park control. This additional equipment would usually cost over £300, but the new Kelisa EZi SE remains at the unbelievably low price of £6,399 delivered.
The SE pack is also available on the Kelisa GXi manual, which currently provides excellent value for money at £5,495 delivered. The additional specification of the GXi SE model is unbeatable value at only £5,595 delivered, which represents a saving of over £200.
The Kenari EZ SE automatic gains the extra specification of reverse park control but remains priced at only £6,930 delivered2. This addition further enhances the appeal of Kenari when you take into account the standard specification which already features a radio/cassette/CD, electric windows, central locking, power steering, metallic paint, a versatile rear seat fold & recline system and a convenient side-opening rear tailgate.
The full Perodua range continues to start with the Kelisa EX at only £4,699 delivered. In conjunction with Perodua's amazing 2-2-200 deal which began in October, the enhanced SE models will boost Perodua's reputation for providing generous equipment levels and value for money.
1 Plus £95.75 road fund licence & first registration fee (6 months)
2 Plus £106.75 road fund licence & first registration fee (6 months)