Perodua is top choice for value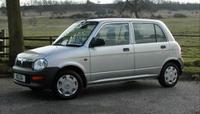 Perodua UK is delighted to announce that the Kelisa EX has returned to the number one spot in CAP's running cost league table. According to the independent motor research specialists, the Kelisa EX costs a remarkably low 14.1 pence per mile to own and run over 3 years/60,000 miles including purchase price, running costs and depreciation.
Perodua now has two models in the top five, with the Kelisa GXi costing only 15.1 pence per mile to run over the same period. This re-establishes the Kelisa as the UK's most affordable car, and confirms Perodua's value for money status yet again.
The Kelisa EX's value is now further enhanced by the latest 2-2-200 offer which includes fantastic finance deals featuring a £2 deposit with low monthly payments, 2 year's peace of mind motoring with a second year of Britannia Rescue cover worth over £100, along with free metallic paint worth £200. The Kelisa EX starts from only £4,699 delivered, and has a high level of standard specification which includes 5 doors, power steering, dual airbags and seatbelt pretensioners.
The higher specification Kelisa GXi and EZi SE, along with the full Kenari range, also benefit from the 2-2-200 offer. However, as these models feature metallic paint as standard, the customer receives £200 cash back instead. These models offer a high standard specification which includes electric front windows and central locking.
The current range of exciting offers, combined with the continuation of the recently launched added specification SE packs at no extra cost on automatic models, proves this to be the perfect time to take another look at Perodua. When considered in conjunction with Kelisa's return to the top of the running cost league table, Perodua is the top choice for drivers seeking value for money.