Kelisa hits back at rising motoring costs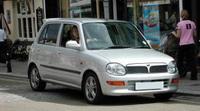 As fuel prices continue to rise this summer, there's a new reason why cash conscious car-buyers are able to rely on Malaysian manufacturer Perodua to help them keep motoring costs down.
Until the end of September, the Perodua Kelisa Ex, Britain's most affordable new car to own and run, is now even better value for money. At just £4499 delivered, Perodua have slashed £200 off the usual price of their lead-in model, once again passing savings back to their customers without compromising on any of the fundamentals required by the discerning modern motorist.
The Kelisa Ex boasts a comprehensive range of safety features fitted as standard, such as driver and passenger airbags, side impact protection and seat belt pretensioners. Along with its five door versatility and practical storage space, these features make the Kelisa Ex the perfect choice for young families on a budget, who need an inexpensive car with low running costs and a spacious interior but are not prepared to cut corners when it comes to passenger protection.
Young families and the more green-aware amongst us will also appreciate the low running costs of the Perodua Kelisa Ex;, at only 15.1p per mile¹ (over 60,000/ 3 years) and with class-leading fuel consumption of 64.2mpg, the Kelisa Ex is still one of the most fuel efficient cars on the road today, whilst the environmentally friendly 1.0 litre engine also takes advantage of a low rate of vehicle excise duty.
Not only is the Kelisa Ex equipped to a high level of sophistication for an entry level model, boasting useful features such as power steering and an advanced engine immobiliser, but this Malaysian supermini looks great too, with free metallic paint available on the Ex model worth a further £200.
Perodua UK's Managing Director, Tim Slaughter, says: "We are committed to providing motorists with the best value for money, along with the highest levels of build quality".