Myvi cleans up with continued cashback offer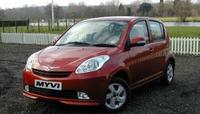 Buying a brand new car is now even easier in 2007 with the great news that Perodua have extended their generous £1000 cashback offer on any new Myvi Sxi or Ezi until the end of March. This means that you can snap up a Myvi Sxi (manual) for just £6,799 OTR, or a Myvi Ezi (auto) for only £7,499 OTR and enjoy all the benefits of a modern, new car specification at an extremely competitive price.
It can be easy to feel a bit glum at this time of year, what with money a bit tight after Christmas, and now the prospect of interest rates continuing to rise. Perodua's £1000 Myvi cashback offer is the perfect tonic for this festive season hangover, and with the continuation of this great value deal from the Malaysian budget brand there is no reason why you can't treat yourself to a new car this year.
Myvi is the latest addition to Perodua's model range of Kelisa and Kenari, and with its modern styling and practical equipment this five door supermini represents a giant leap forward for Perodua in the UK.
Packed full with standard features you would expect to find only as options on cars in this price range, Myvi boasts impressive equipment like air conditioning, front and rear electric windows, remote central locking and integrated RDS Radio/CD player, along with the more usual items found on Perodua vehicles such as an advanced engine immobiliser, power assisted steering and driver and passenger airbags.
Even picking your favourite colour doesn't have to cost you more. Myvi is available in a choice of seven glamourous colours, and with no extra charge for the metallic shades this can represent a saving against other similar models of around £350.
Myvi not only costs you less at the dealership but continues to put money back in your pocket during the life of the vehicle through its economical ownership and running costs. Myvi is cheap to run for a car of its size because it consumes less, therefore not only proving to be a more economical alternative to the gas-guzzling SUVs in the family car market, but also an alternative that's kinder to the environment too. With CO² emissions of 137 g/km for the Sxi, Myvi attracts a low level of Vehicle Excise Duty and the 1.3 litre 4 cylinder DOHC DVVT engine offers an excellent rate of fuel consumption (48.7mpg¹ on the Combined cycle) without any compromise on performance.
With its high standard specification, low running costs and generous cashback offer, its not difficult to see why Myvi has become an unprecedented success for Perodua since its launch in the UK in September last year. As changes in politics and the global market continue to drive consumer trends towards more economical and environmental motoring, the Perodua Myvi is fast becoming a natural choice for today's leaner, greener motorist.