Give the gift of Kenari this Christmas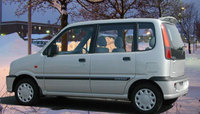 With a brand new fabulous £500 cashback deal on both Kenari GX (manual) and Kenari EZ (auto), Perodua are offering their customers a great opportunity this Christmas to give the gift of Kenari, Britain's best value mini-MPV. With quirky looks that certainly stand out from the crowd, Kenari is not only practical but very reliable, benefiting from the latest Japanese-designed DVVT DOHC engine technology. At just £5630¹ for the GX and £6430¹ for the EZ, this Perodua mainstay continues to provide unbeatable value for money all year round.
The most persuasive feature of Kenari is its interior space, with 20 per cent more room inside than a conventional hatchback model. Passenger access is made very easy by the vehicle's tall doors and plentiful headroom, whilst cargo-loading is made even simpler by a side-hinged rear door and individual folding/reclining back seats, creating a load compartment perfect for stowing sacks of toys, snow shoes, reindeer feed, or anything else you might want to carry around at this time of year….
The Kenari body shell has been very cleverly designed to ensure that all this interior space is married to compact exterior dimensions, creating a highly manoeuvrable vehicle that is easy to drive and park, with a turning circle of just 4.6m – great for driving in towns and cities, or navigating round those tricky roof tops in the middle of the night….
Kenari isn't just practical but comfortable too, with power-assisted steering, electric windows, and a high quality stereo Radio Cassette/CD player as standard. In fact Kenari provides a level of specification largely unrivalled by competitors at this price point, and certainly beats your average sleigh ride in terms of refinement and style…..
An excellent return on your fuel spending is promised by the Kenari 1.0 engine which produces 56.5mpg (GX) over the Extra Urban cycle and a CO² emissions level of just 136 g/km (GX). This means that the 40 litre (8.7 gallons) fuel tank in the Kenari will give a realistic range of over 400 miles between fills – considerably less thirsty than your standard reindeer….
As part of the Perodua range of vehicles, the Kenari represents the brand's ethos of 'value without compromise' and this is certainly true when it comes to the all-important safety features on the vehicle. In the unfortunate event of a collision with another vehicle, the front frame of Kenari will bend into a 'v' shape on impact, thus absorbing the force of a crash and pushing the engine and transmission downward, thereby minimising cabin intrusion and helping to shield vehicle
occupants. Further protection is provided by the standard Perodua safety features of driver and passenger airbags, seat belt pretensioners and side impact protection bars.
Perfect for discerning drivers looking for extra space and comfort, manoeuvrability and reassuring safety features, with an extra £500 off the already competitive asking price, Kenari now offers even more value for money. So no matter what your usual mode of transport might be this Christmas, Kenari is certainly worthy of consideration as the best value mini-MPV for 2008.