Blythswood Square Pit Stop Spa packages for men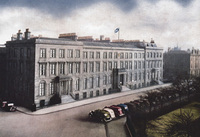 Blythswood Square has announced the launch of its 'Pit- Stop Spa' packages for men.
Formerly headquarters to the Royal Scottish Automobile Association, The Spa at Blythswood has named the new men's spa packages to reflect its 'racing' heritage - the Monte Carlo Rally started from Blythswood Square in 1955 and over the years many high profile racing drivers have frequented the bar which now features memorabilia.
The Pit-stop spa packages have been designed to respond to the demand for the most popular men's spa treatments to be made available in a concise format
The 'Pit-Stop Spa' package includes:
1 x Head Massage
1 x Men's file and polish
1 x Deep tissue massage of Hot Stone Massage
1 x Gentlemen's High Tea
Price £180.00
or
The 'Revved Pit-Stop' package includes:
1 x Men's file and polish
1 x Head massage
1 x Gentleman's High Tea
Price £135 midweek £150 weekend
The Spa at Blythswood Square covers 10,000 square feet and offers the exclusive Blythswood Thermal Experience - a seven stage journey of alternating temperature experiences to soothe, relax and detoxify the body prior to spa treatments or as a restorative therapy and the UK's first indigenous Scottish treatments designed in conjunction with luxury organic skincare house, ila.
The Spa features nine spacious and tranquil treatment rooms including a double suite where guests can enjoy a full range of face, body and holistic treatments, a decadent Dark Pool where guests can relax in warm waters, a Rhassoul, a choice of wet and dry relaxation rooms and a spa lounge where guests can peruse the spa menu and choose from an array of beautifully presented tapas dishes.
Blythswood Square is situated in the heart of Glasgow on one of the city's green spaces. The hotel has 100 bedrooms including four spacious suites and a top floor penthouse. It also has a restaurant, bars, a private screening room and event facilities. Blythswood Square is one of Scotland's most environmentally-friendly hotels through the incorporation of renewable energy technologies to achieve reduced carbon emissions.
For further information, visit blythswoodsquare.com.