Subaru Pro-R Alcon Braking System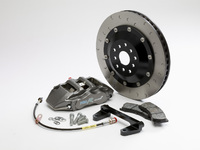 Pro-R, the official accessory arm of Subaru UK, has launched a superb new range of brake upgrades to augment most high-performance Subaru models. With the STI now better value than ever at £26,995, these race-proven stoppers make the perfect first improvement!
The Pro-R braking system has been created as a bespoke solution by WRC, F1 and GT suppliers Alcon. Starting with a blank sheet of paper, their talented design team penned a design that not only fits within all 18" OEM wheels, but also offers simply biblical levels of retardation. This is no mere 'lookalike' fast road kit, however. This is the very same componentry that keeps the Pro-R backed Time Attack race car under control – and often on the way to a podium finish.
The calipers are gravity die cast aluminium alloy Monobloc units, offering unparalleled strength and uniformity in braking, giving precise feedback during fast road or track driving. Based on a Monobloc 6 piston design, they offer high body stiffness (for a firm pedal) and low weight. The piston bore sizes have been staggered to ensure even pad wear and pin-mounted pads provide low threshold pressure and even lower noise.
The pads themselves are also low-noise specification offering strong cold performance for start-up and city driving and are specially formulated for excellent resistance to fade at elevated temperatures. As for track suitability? Being the brakes behind last years' Time Attack Championship Club AWD winner tells you all you need to know.
The 343mm Pro-R discs have been engineered to produce optimum bite, thermal stability and durability in an exceptionally high strength to low weight design. This has been achieved by combining a special Alcon-developed iron alloy disc with an aerospace specification alloy bell.
Unique crescent grooves on friction faces provide the bite usually associated with drilled discs without the attendant durability problems, while directional curved cooling vanes offer optimum cooling performance. Alcon's floating disc system has been designed to allow thermal expansion of the disc throughout its life while minimising the tendency to judder.
As you can imagine with a genuine part, no additional parts are required to fit the Pro-R kit to your car - all brackets, fixings and braided hoses are included.
The systems retails at £1800 including VAT and is available from all Subaru Pro-R dealers. For more information or to find your nearest outlet, visit pro-r.co.uk.