Celebrate World Rhino Day with Acacia Africa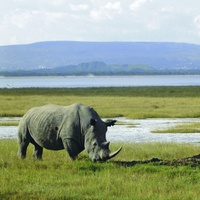 "World Rhino Day" will be held on 22 September – its main aim to create awareness on the need to protect these magnificent mammals. To mark the event Acacia Africa will be offering a 25% discount on several of its overland tours.
Vivian McCarthy, General Manager at Acacia Africa, comments "Only 4,000 black rhinos are left in the wild, and although white rhino number around 17,000 they are still under significant threat from poaching."
(SAVE £99pp) Etosha is home to Africa's tallest elephants, but included in its impressive count of over 100 species of mammals, the national park also boasts a 260-strong population of black rhino. Known to be rather shy, the parks floodlit waterholes give wildlife viewers extra opportunities to spot these endangered herbivores. 11-day Cape Desert Safari now from only £549pp (no single supplement). Departing 13 October & 10 November. Starts Cape Town – ends Windhoek.
(SAVE £94pp) South Africa is home to more than 80% of Africa's rhino population, and while they were once extinct in the Kruger national park, due to extensive conservation efforts, there are now around 300 rare black rhino residing here. Add to that a further 3,000 white rhino and you have the recipe for an unforgettable safari. 7-day African Insight now from only £435pp (no single supplement). Departing 11 October & 08 November. Starts Johannesburg – ends Victoria Falls.
(SAVE £161pp) Over the last two years conservationists have stepped up their game in the Serengeti, the ongoing release of 32 black rhino from South Africa to their natural East African habitat making this, the world's largest re-introduction project. 11-day Highlights Of Tanzania now from only £909pp. Departing 12 & 26 November. Starts Dar es Salaam – ends Nairobi.
For more information, visit acacia-africa.com.