Africa on the hoof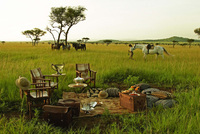 The magic of the African savannah is rarely felt so entirely as from the saddle. It is a feeling unlike any other and the thrill of dancing, snorting circles - giving elephant or buffalo a wide berth - on your faithful mount, your confidant, your equine companion, will never be forgotten. A riding safari offers a glimpse of acceptance into another world. You are no longer a visitor, tourist or interloper, but a resident, a local, a member of the herd!
TripAfrica knows horses, Becx, founder & MD, is a qualified riding instructor & polocrosse player and has ridden all over Africa and the world. Here are some suggestions on how to experience Africa By Hoof…
The Part-time hacker
For lapsed or infrequent riders there are plenty of opportunities to ride throughout Eastern and Southern Africa. From the wonderful Ants Bush Homes in the Waterberg, South Africa where you can choose to ride as little or often as you wish, to the classic Borana Ranch in Kenyas stunning northern Laikipia region where daily optional rides sit alongside the opportunity to 'stick & ball' at the North Kenya Polo Club – there is opportunity a plenty. Non-riders can travel alongside their horsey companions effortlessly, sharing game drives, walks & meeting up each evening for suppers and tales around the campfire.
The serious rider
For more experienced, daily riders there are some wonderful multi-day riding safaris. From an exploration onto 'the moon' riding out onto the incredible Makgadikgadi salt pans in Botswana guided throughout by David Foot, to an amazing 'big 5' ride through the private reserves of Karongwe & Makalali in South Africa with Wait A Little. Multi-day rides almost always involve an element of 'mobile' safari using fly-camps or sleep-outs under the stars and clients need to be riding fit and expect several hours a day in the saddle.
Tailored trails
Those looking for a little more exclusivity can create their own private group safari for as few as two persons – or perhaps a larger group for a birthday or other celebration. From hiring out a private house or lodge in South Africa, Botswana or Kenya for the entire party to building your own private guided mobile riding safari in the Maasai Mara or Tanzanias Grumeti Reserve, Serengeti there are number of ways to ensure that your riding safari is entirely unique and totally unforgettable.
The exploratory equestrian
For the ultimate in exploration, adventure and horsemanship you could try a riding safari in Namibia – here harsh but stunning landscapes combine with vast distances, tough terrain and extreme weather to create a hard-core equine adventure suitable for only advanced riders. Days mastering the Namib desert, negotiating Fish River Canyon or searching for the elusive 'desert dwelling elephant' in Damaraland will never be forgotten as clients truly feel like a pioneer in unchartered lands.
Horsey combinations
For something a little different perhaps combine the Makadigkadi Salt Pans ride with the Selinda Canoe Safari to create the incredible 'Saddle & Paddle' – A safari with a difference. In East Africa combining Kaskazis 5 night pure fly camping riding safari in the greater Tarangire area with a few nights relaxing on Zanzibar works brilliantly and is very affordable.
For information, images and packaged costs, visit tripafricatravel.com.