The Sarojin rewards early bird bookers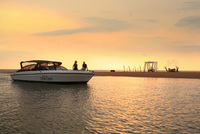 Luxury boutique resort, The Sarojin, is encouraging its customers to book early with some enticing discounts to mark the beginning of Thailand's glorious dry season. Those booking 45 days or more prior to their arrival will receive an impressive 10% discount off the usual room rates, whereas those booking from 21 to 44 days in advance will be rewarded with a 5% saving. Further good news is that these early booking incentives will be valid until the end of the year*.
The timing of these offers coincides with the start of the dry season in south-west Thailand, when temperatures are at their most pleasant, the sea crystal clear and the skies a vibrant blue. This also marks the opening of the Similan and Surin Islands, considered by many as the best dive centre in Thailand and one of the best in the world. So diving and snorkeling enthusiasts can not only take advantage of The Sarojin's great deals, but also of its unrivalled accessibility to these stunning islands where coral reefs begin only yards from the white sand beaches.
As well as the opportunity to take advantage of these early bird savings, The Sarojin is continuing to offer its customers one free night for every night they book for all bookings made until 31st October 2012**. These fantastic deals mean that guests booking now can benefit from either offer for immediate travel or for travel in November and December and treat themselves to a relaxing holiday in one of Thailand's most sought-after resorts, with pristine beaches, delicious cuisine, an award-winning spa and a whole host of amazing activities to make a truly memorable holiday.
November also marks the re-launch of The Sarojin's unique and luxurious "Shipwrecked in Style" package, whereby guests can enjoy, among other amazing experiences, a private island dining excursion where all they have for company is their own private butler and chef, the sand between their toes and the mesmerising views of the aquamarine ocean that nestles between the charming fishing village of Baan Nam Khem and the island of Koh Kho Khao. Created by The Sarojin's on-site "Imagineer", Dawid Koegelenberg, this special package also includes a luxury all-day à la carte breakfast with sparkling wine, a journey through the jungle to a beautiful waterfall where they will learn how to cook Thai food from The Sarojin's highly-acclaimed chef, and a trip on the luxury yacht, the Lady Sarojin, where their island awaits.***
A stay at The Sarojin is a truly unforgettable experience and those guests who have been lucky enough to encounter the hospitality and personal attention of its welcoming and friendly staff, as well as the resort's unbeatable facilities, activities and cuisine, have come back with memories to be treasured forever. These latest offers provide guests with a unique chance to see the resort at its best and at incredible prices.
*Subject to availability and excluding peak periods.
**From now until 31st October 2012, guests can stay two nights / pay one night, stay four nights / pay two nights, stay six nights / pay three nights, stay eight nights / pay four nights and so forth. Prices start from THB 12,000 (approximately GBP 240) per room per night and are based on two people sharing, inclusive of complimentary all day à la carte breakfast with sparkling wine. Furthermore, young adults 10 years and above sharing with parents go free and only pay for breakfast - representing great value for older families!
***Prices for The Sarojin's "Shipwrecked in Style" package, available from 1st November 2012, start from THB 104,000 (approximately GBP 2,000) for two people, including six nights' accommodation in a luxurious Garden Residence, a Thai cooking class and lunch by a jungle waterfall, private island experience - private cruise aboard the luxury boat Lady Sarojin and exclusive dining experience - daily all-day à la carte breakfast with sparkling wine served and private airport transfers to and from Phuket Airport with refreshments and cold towels for two persons. Prices exclude taxes.
About The Sarojin
The Sarojin is beautifully set on an 11km stretch of secluded white sand beach in Khao Lak, just a 55 minute drive north of Phuket Airport, and is surrounded by five spectacular national parks and the world-famous dive sites of the Similan and Surin Islands. Designed in a contemporary Asian style, the five-star resort's 56 deluxe residences are nestled within ten acres of tropical grounds leading directly onto the beachfront. Each guest room features its own private garden and "sala" sundeck, couples' baths with waterfall showers, and plunge and relaxation pools that blend into the natural habitat. Other facilities include an attentive "Imagineer" who can create tailor-made experiences for hotel guests and complimentary use of a fully equipped fitness centre, mountain bikes, sailing catamarans, sail boats, sea kayaks and windsurfing boards. Tranquility is guaranteed as no children under the age of 10 are permitted to stay at The Sarojin.
For further information on The Sarojin, visit sarojin.com.