A very Moorish rail journey from Marrakech to Madrid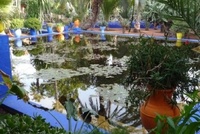 Guided walks specialist operator, Ramblers Worldwide Holidays, is offering a fascinating twelve night rail journey from Marrakech to Madrid called 'The Moorish Trail'.
From Marrakech, one has the opportunity of exploring the city and High Atlas Mountains walking into the Ourika Valley.
Leaving Marrakech, on the first of the rail journeys, one travels to Rabat, one of Morocco's imperial cities, and it's modern capital.
Then, it's onto ancient Tangier, where one takes the ferry across the Strait of Gibraltar to Southern Spain.
Here, another rail journey takes one to Ronda - offering spectacular views from its arched bridge spanning the Tajo Gorge. Thence to Granada to visit the Alhambra Palace and Generalife Gardens.
En route to Madrid, one visits Cordoba - once the Iberian Peninsula's Islamic capital - famed for the Mezuita with its sumptuous decoration.
Next one whizzes on the high speed train to Madrid to explore some of the finest museums and art galleries in the world.
Price from £1,345 per person includes return flights, transfers and rail travel in destination, half board accommodation and the services of a dedicated tour leader. Departing 6 November 2012.
For more information, visit ramblersholidays.co.uk.