Skyfall Land Rover Defender joins Bond in Motion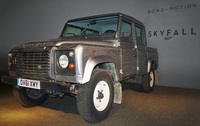 The National Motor Museum at Beaulieu is delighted to announce the arrival of the Land Rover Defender from the set of the 23rd James Bond film, Skyfall, for display in the museum's BOND IN MOTION exhibition.

The 2012 Land Rover Defender is driven in the opening sequence of the film in Turkey. It is a left-hand drive 110 double cab pick-up, boasts a four cylinder 2.2 litre engine, capable of a maximum speed of 90mph.

The Defender joins two Honda CRF250R motorcycles already on display in the exhibition that also feature in the Skyfall opening sequence.

Beaulieu's Commercial Director Stephen Munn said: "This is another fantastic new addition to BOND IN MOTION. We are delighted that we have been able to welcome three Skyfall vehicles into the exhibition since filming wrapped, and they have already attracted a lot of interest from visitors. We wanted BOND IN MOTION to represent as many of the films as possible, from the Sean Connery classics right through to the current Daniel Craig films, and it is a privilege to be able to give visitors a glimpse of what awaits in the 23rd instalment."

BOND IN MOTION showcases 50 of the best-loved and most iconic Bond vehicles – some never publicly displayed before – in celebration of the 50th year of the James Bond films.

The exhibition features a whole range of vehicles which have appeared in Bond films over the 50 years including cars, boats, motorbikes, jets and many more. This collection of iconic movie vehicles includes the Aston Martin DB5 from GoldenEye, the 1937 Phantom lll Rolls-Royce from Goldfinger, and theLotus Esprit S1 affectionately nicknamed 'Wet Nellie' from The Spy Who Loved Me.

BOND IN MOTION can be seen as part of a visit to the whole Beaulieu attraction. For further information visit beaulieu.co.uk

The world premiere for Skyfall takes place in the UK on 23rd October 2012.