The Hungry Sailors set sail for Falmouth Oyster Festival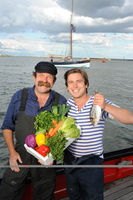 Dick and James Strawbridge of ITV's 'The Hungry Sailors' have set their sights on Falmouth Oyster Festival to feature in their new television series, to be aired in 2013.
The father and son team will pit their culinary ingenuity and flair against two of Falmouth's top chefs - Arty Williams from The Cove and Nick Hodges from the Flying Fish Restaurant at St Michael's Hotel and Spa in the Hot Chef's Challenge on Friday 13th October. Expect creativity and a big dash of humour as the duos battle it out in the festival kitchen.
"Cornwall boasts a full menu of quality food and drink festivals which demonstrate why we have one of the finest reputations for food and drink in the whole of the UK" confirms Malcolm Bell, Head of VisitCornwall, the tourism service for Cornwall Development Company. "Falmouth Oyster Festival has become a firm favourite with both visitors and locals, showcasing the very best of Cornish seafood and celebrating the traditional methods of harvesting native oysters of one of the last remaining fisheries still dredging using only sail and hand drawn punts."
The 2012 festival, sponsored by St Michael's Hotel & Spa, is set to be bigger and better than ever with an action packed programme. The usual highlights, including daily cookery demonstrations, live music and the Cornish produce marquee, all feature in this year's line up. The exciting entertainment line up includes the debut appearance of Port Isaac's Fisherman's Friends, Cornwall's sea shanty sensations on Saturday night, following on from the BBC's 'Fisherman's Apprentice' Monty Halls sharing fun tales of adventures and spending time with the Cadgwith fishermen. Cornwall's own Johnny Cowling is back with his unique brand of humour on Thursday 11th October after a sell out success last year.
Nigel Carpenter, Proprietor of St Michael's Hotel & Spa said; "We are delighted to welcome Dick & James Strawbridge and the Fisherman's Friends this year, it helps to show how committed both the festival and St Michael's as sponsors are to supporting local fishermen and this is an ideal way of expressing it."
Now in its 16th year, the Oyster Festival celebrates the much-revered mollusc and marks the start of the oyster dredging season, from Thursday 11th to Sunday 14th October at Falmouth's Events Square. Full festival details on falmouthoysterfestival.co.uk.
For a full listing of events in Cornwall and inspiration for where to stay and things to do and see in Cornwall see visitcornwall.com.