Honeymoon heaven - Safari style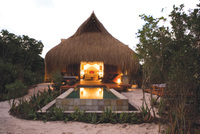 As a honeymoon destination Africa has it all - from spectacular game viewing in fabulous national parks to some of the world's most idyllic tropical islands. And right now there are some superb honeymoon offers available making this exotic corner of the world more attractive than ever.
A word of caution - many safari camps will have you up at dawn and out after dark to catch animal activity at its best, which isn't always the most relaxing start to married life. A few days on the beach or somewhere quiet before safari proper is often advisable. Aardvark Safaris' staff have been planning honeymoons for over 15 years and most have lived and worked in Africa, returning regularly to see new properties and revisit old favourites. When it comes to honeymoon planning, we offer only the finest camps and lodges, the best guides and most exciting holidays - we pride ourselves on being a veritable treasure trove of safari secrets.
Aardvark Safaris' pick of the bunch for 2013 honeymoons:
Beach and bush - South Africa and Mozambique: Combine superb game viewing in the Kruger National Park with barefoot luxury on Mozambique's gorgeous coastline. This classic combination includes the excitement of tracking the Big 5 (lion, leopard, rhino, elephant, buffalo) with some of Africa's top guides and beach properties to rival any in the Caribbean or the Far East. Go now and benefit from a favourable Sterling/Rand exchange rate. Combine the glamorous and chic Chitwa Chitwa - of which says Chris Haslam, Sunday Times, 'if David Attenborough and Donatella Versace had an affair their lovechild would be Chitwa Chitwa' - with Azura Benguerra for the most unforgettably romantic start to married life. Bride stays half price and a complementary massage is included at Chitwa Chitwa.
Cost from £7,880 per couple. Includes full board accommodation, internal transfers, safari activities and complementary massage at Chitwa Chitwa. Excludes international flights. Brides' half price special applies to stays of five nights or more at Azura and excludes 20th December to 11th January.
Safari and spice - Tanzania and Pemba Island: Combine a safari in one of Africa's largest, and wildest, game reserves with culture and relaxation on the colourful spice island of Pemba. The Selous is home to a handful of classic tented safari camps and Sand Rivers is one of the finest - set on the bend of a river in full view of all manner of animal goings-on. You can walk, game drive and take boat trips here so plenty of chance to come face to face with the famed wildlife of the area. Fundu Lagoon on tiny Pemba Island provides a glorious retreat from day to day life but also the perfect base from which to explore this jewel-like island. Take a spice tour, enjoy a sunset dhow cruise or simply relax on the beach watching the world drift by. Honeymoon offer includes three free nights, complementary massage, surprise private dinner at Fundu, private game drive or boat trip.
Cost from £6,696 per couple. Includes full board accommodation, internal flights and transfers, safari activities, fishing, canoeing, snorkelling, windsurfing.
Modern twist on an old classic - Zambia and Malawi: This slightly different take on the winning bush and beach formula combines Zambia's gloriously empty-of-people yet full-of-wildlife national parks and Malawi's jaw-droppingly beautiful lake. Start at Victoria Falls in Tongabezi's honeymoon house before heading to the Lower Zambezi National Park and Chiawa, an old world classic tented camp with superb guides and understated luxury - think roll top ball and claw baths overlooking the Zambezi River and you get the picture. Then off to the beach on Likoma Island - a little dot in the middle of the lake where Kaya Mawa sits on a pristine white beach where the warm, gin-clear waters of the lap gently at the shoreline. Stay in idyllic thatched cottages dotted along the beach or built up into the rocky shoreline. Utter perfection. The Bride stays for free on the fourth night at Kaya Mawa.
Cost from £8,040 per couple. Includes full board accommodation, internal transfers, all safari activities and a variety watersports at Kaya Mawa. Excludes international flights.
For more information, visit aardvarksafaris.com.