Brits make the most of excellent last minute holiday deals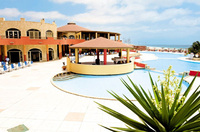 According to one of the biggest suppliers of last minute holidays, after one of the worst summers on record Brits are jetting off to hotter climes to escape the dreary Great British weather in their droves.
Latedeals.co.uk is reporting an uplift in long haul sun holidays and it's, in part, attributing the surge to the amazing last minute deals on offer this year, with Malta and Cyprus less than half price, some Egypt and Turkey holidays almost half their original price and new, popular destinations like Cape Verde with around 35% off. Plus some Christmas escapes and New Year getaways are cheaper than ever!
Popular destinations being visited within the next eight weeks are Cape Verde, The Caribbean and Mexico for guaranteed sunshine, plus the ever popular Egypt, Canaries and Cyprus. The go-to travel site for savvy savers has seen around a 40% increase year-on-year on holiday bookings to long haul travel destinations, compared to a short haul trend last year.
Here's a round up of deals currently available at Latedeals.co.uk to show some of the last minute deals Brits can enjoy. Plus, Latedeals.co.uk has turned into Father Christmas as it's offering a further £25 off any of its already heavily discounted holidays. People can claim the voucher by visiting facebook.com/latedealsuk and enjoy the destinations below for an even cheaper price than stated.
December: More than 50% off Malta! Just £145 per person
Yes, this is for real, seven nights self-catering at the Sunseeker Studios in Bugibba, Malta, is a massive 54% cheaper than the original price. Flights depart Gatwick on 18th December (back Christmas Eve).
December: Cyprus at better than half price! 53% off
If you thought 54% off was good then you've got to be pretty happy with 53% off and that's exactly what you get if you book 10 nights half-board at the grade 4 Hotel Atlantica, Golden Beach, Paphos, Cyprus. It's just £382 per person for flights leaving Gatwick on 16th December.
January: A deal in Turkey that's no leftover: Only £283 per person
By the time this holiday departs from Manchester on 4th January you might be stuffed full from eating Turkey but the grade 5 Paloma Renaissance Kemer means you can recover from Christmas in the lap of luxury. This all-inclusive offer has 35% off the original price.
January: Holiday like royalty in Cape Verde: £557 per person
The grade 4 Royal Decameron, Boa Vista, Cape Verde has to be the perfect place to toast the Royal baby, especially as it's on offer on an all-inclusive basis for seven nights with 33% off the original price. Flights depart Gatwick on 15th January.
January: Arriba, arriba! Start 2013 in style with a trip to Mexico: 42% off
Talk about something to look forward to for the new year, seven nights all-inclusive at the grade 5 Azul Fives, Riviera Maya, Mexico is just £925 per person, or take 14 nights for just £1310, a saving of 44%. Flights depart Birmingham on 19th January.
Calum Macdonald at Latedeals.co.uk commented: "This year's trend towards long versus short haul is down to two key factors – the amazing deals on new long haul destinations like Cape Verde and guaranteed sunshine.
"More people want assured sunshine and at these locations you're promised that. The figures are not surprising as people are now looking for more accessible and better value holidays and with us, they are getting more for their hard earned money."
Egypt and Morocco remain two of the most popular winter destinations, with their vibrant culture, iconic heritage and varied attractions. More Britons are also being lured to the inviting climate of Jamaica, the Dominican Republic and Cuba, while Cancun in Mexico continues to be a firm favourite. For those who can't quite stretch to the full Caribbean experience, Cape Verde, off the coast of West Africa is also growing in popularity with winter sun seekers, with acres of stunning beaches and clear turquoise waters, giving the ultimate beach holiday.
For more information, visit latedeals.co.uk.
Prices subject to availability and correct at time of publication.