The new Skoda Octavia: A class of its own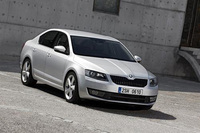 The new Skoda Octavia sets standards in the compact segment. The Octavia's third generation more than ever confirms the car's unique position in its vehicle segment, impressing with an unrivalled space offering, new design, high functionality, innovative safety and comfort systems, low fuel consumption, wide range of 'Simply Clever' solutions and a Skoda-typical price-value ratio.

"The Skoda Octavia is the heart of the Skoda brand," says Skoda CEO Winfried Vahland. "It embodies the good Skoda genes in the best sense of the word: lots of room, quality, precise workmanship, modern, mature technology, timeless design, high functionality and the best price-value ratio. Our customers' expectations have grown. Our aim was to make this car even better for its third generation. This is reflected in the values of the new Octavia – it is a class of its own."

The Skoda Octavia in its overall package has always been about offering that little bit extra. This is down to the generous space offering, but also the fusion of an elegant saloon shape with the practical advantages of car with a large hatch, a fusion that is unique in this segment. The new generation confirms this uniqueness. "The new Octavia shows us resolutely continuing down a Skoda-typical road. It is a car with middle-class qualities at a compact-car price. It is an ideal car for demanding, confident customers expecting a modern Octavia with all its good values. It is our best," says Frank Welsch, Skoda board member for technical development.

Unrivalled space offering, optimum functionality

The new Skoda Octavia sets benchmarks in its class in terms of its space offering. "The new Octavia offers space such as is otherwise found only in higher classes," says Welsch. No other car in the compact segment offers more interior length (1,782 mm), more knee room (73 mm) and more headroom at the back (980 mm). Also best in class is the boot volume at 590 litres. Other interior dimensions have also increased significantly compared to the Octavia's second generation: front head room: + 8 mm, front elbow width: + 39 mm, rear elbow width: + 26 mm.

New refinement: a distinctive, clear and timeless design

The new Skoda Octavia is not just roomy and functional, it looks good, too. Skoda design chief Jozef Kaba? and his team revised the car from head to toe, creating enthusiasm at first sight. Never before has a Skoda Octavia appeared as dynamic and at the same time as timelessly elegant, as distinctive, refined and assured on the road as this bestseller's third generation. "Each line and gap breathes love of precision and detail. The new Octavia is an unmistakable face in the automobile crowd," says Welsch.

Compared to its predecessor, the Octavia has grown significantly in length and width. The new model is 90 mm longer and 45 mm wider than the second-generation Octavia. At the same time, the wheelbase has grown by 108 mm, mainly benefiting the interior and space on the rear seats.

The front of the car is assured and confident thanks to an emphasis on horizontal lines and a new location for the Skoda logo. The side aspect of the new Skoda Octavia has become markedly more dynamic when compared to its predecessor. This is down to the long wheelbase as well as to the shortened front overhang and a C pillar pulled far backwards. The high, sharp tornado line provides the car with optical stretch and distinctively highlights its coupé-like silhouette. A special new characteristic is an upswept dynamic window line in the rear doors, the so-called "fin" - a small, but effective design idea providing the car with a forceful appearance and direction.

Its rear aspect is also about precision, classiness and perfect proportions. Everything is in the right place, well-positioned and tidy. Skoda's typical lighting graphic with its distinctive C-shaped lighting contour is executed in uncompromising brilliance.

Tidiness, elegance and especially lots of space are what the new Octavia's interior is about. Skoda designers have completely redone the car's insides.

Safety at the highest level

In developing the new Skoda Octavia, an important goal was to make the car even safer. Accordingly, Skoda engineers developed a host of cutting-edge safety systems for the new Octavia including Front Assistant/emergency braking function (from May 2013), Lane Assistant, which keeps the Octavia on track, multicollision-braking/automatic brake actuation in an accident, Crew Protect Assistant/securing of the vehicle in an accident situation, Driver Activity Assistant (fatigue detection) or an active front hatch for pedestrian protection. These systems help avoid accidents or mitigate their consequences for occupants and other road users.

In addition, a precise chassis, a long wheelbase and a rigid and light body structure combine to ensure an extremely stable handling in Skoda's most recent offspring. In the event of an accident, a comprehensive package of passive safety elements provides optimum protection for driver and occupants. In the area of passive safety, up to nine airbags, finely interacting with 3-point safety belts, shield occupants from injury. Knee airbags (standard in EU countries) and rear side airbags are available for the first time in a Skoda Octavia.

New efficiency: CO2 emissions from 89 g/km

Engineers achieved significant improvements in the Skoda Octavia's consumption and emission figures thanks to newly developed petrol and diesel engines, a low drag coefficient and reduced vehicle weight.

The GreenLine version of the new Skoda Octavia (1.6 TDI/81 kW) achieves CO2 emissions of only 89 g/km and consumes a mere 3.4 litres of diesel per 100 km. In all, four petrol engines, all with cutting-edge TSI technology, and four modern TDI common-rail diesel engines are available, with a natural-gas version planned for later. Except for the relevant entry-level petrol and diesel option, all engines now are available in a Green tec version with a start-stop system and recuperation. The line-up runs all the way to the top option, the 1.8 TSI with 132 kW. Modern manual and automatic DSG transmissions are available, with all-wheel-drive versions in the works. A sporty-trim Skoda Octavia RS is also in the pipeline.

Despite its increased size and larger amount of technology on board, Skoda engineers have still succeeded in making the car up to 102 kilogrammes lighter than the Skoda Octavia's second generation. This was achieved thanks to resolute lightweight engineering, a progressive body design, utilisation of high- and ultra-tensile steel and a careful selection of materials. Actual weight reduction will vary depending on buildability of each vehicle configuration.

Supreme comfort through innovative technology

In addition, the new Skoda Octavia offers numerous new comfort functions such as hitherto available only in higher-segment vehicles. In addition to making their debut in the new Octavia, some of them are even becoming available for the first time ever in a Skoda. In this context, use of new technologies is no end in itself, but seeks to provide tangible added value to customers, meaning no fanciful knickknacks, but technology for people's sake, technology that makes mobility safer and more comfortable for people.

Available for the first time in a Skoda is the Adaptive Cruise Assistant, which automatically maintains a pre-set distance to the car ahead. The new Intelligent Light Assistant will switch to high beam and back automatically, increasing comfort and safety in traffic. The Automatic Parking Assistant makes parking the Octavia in and out easier. Also available for the first time in a Skoda will be in the future traffic-sign recognition as part of the 'Traveller Assistant' package. Driving Mode Selection enables drivers to set certain vehicle driving characteristics at the push of the button. Another first is the electric panoramic sliding/tilting sunroof: a transparent panorama roof enhancing comfort and wellbeing on board the Octavia. The new Octavia is also available with KESSY (Keyless-Entry-Start-and-Exit-System), the automatic door- and ignition-lock system.

New generation of infotainment systems

The new Skoda Octavia impresses with an all-new generation of radio and radio navigation systems. Touch displays with proximity sensors and swiping functionality will be available in higher-level systems, while the new CANTON sound system and an acoustically optimised passenger space provide pure listening pleasure.

Practical and functional thanks to Simply Clever solutions

As in every Skoda, life for occupants is made easier by a range of Simply Clever features in the new Octavia. Depending on trim level, the following items are available either as standard or as an option. They include foldable cargo elements for the boot, enabling safe anchoring of objects on the floor. A double-sided floor covering in the boot can be found for the first time in a Skoda Octavia. An ice scraper is placed inside the filler flap. A warning vest holder is located underneath the driver's seat and a rubbish bin inside the door panel. A multimedia holder has space for an iPod, a mobile phone and the like. A large overhead sunglasses compartment is just one of many storage bays, holders und hooks that make for an intelligent and clean organisation of interior and baggage space of the new Skoda Octavia. Also on board are the fuel-error prevention function and a boot cover folding away behind the rear seats.