Valletta's International Baroque Festival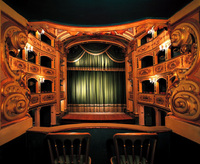 Valletta, Malta's baroque capital city and a UNESCO world heritage site, will be hosting its first International Baroque Festival between the 9th and 26th of January 2013, as it prepares to become the European Capital of Culture in 2018. Phoenicia Hotel, a patron of the festival, is offering great deals for January, with 20% off standard prices and classic rooms starting from under £40 per person per night.
The festival will take place across the city's landmark venues including the Manoel Theatre; one of the oldest in Europe, St John's Co-cathedral; a baroque masterpiece housing frescoes by Caravaggio, The President's Palace; which dates back to 1571, the Museum of Fine Arts and other baroque churches and palaces where visitors can enjoy a host of concerts, choirs, ensembles and orchestras during the two and half weeks.
Showcasing leading collaborations and soloists specialised in baroque music, the event will welcome performers from around the world including English soprano Emma Kirkby, The King's Consort and Orchestra of the Age of Enlightenment; also from the UK, vocal and instrumental ensemble Les Talens Lyriques from France, Combattimento Consort Amsterdam from The Netherlands, Maltese all-male choir Cappella Sanctae Catharinae, the Malta Philharmonic Orchestra and many more.
Further highlights of the impressive schedule include a stunning rendition of Vivaldi's Four Seasons by Michael Laus, Carmine Lauri and Emanuela Buta at The President's Palace on Thursday 10th January and a spectacular baroque ball at the Manoel Theatre on Saturday 26th January.
General manager of the Phoenicia Hotel, Charles Azzopardi said, "We're delighted to be supporting the Manoel Theatre and the Valletta International Baroque Festival, as the Maltese culture is steeped in baroque. We look forward to welcoming visitors to this magnificent festival with its programme of world-class performers."
With 136 rooms and suites, sumptuous interiors, a choice of restaurants and bars, acres of exquisite gardens and many rooms overlooking the Grand Harbour, the historic Phoenicia Hotel boasts an idyllic location by the gates of Valletta, just a stroll away from many of the events taking place.
The hotel's plush Palm Court Lounge is ideal for afternoon tea or aperitifs and guests can dine in the acclaimed Phoenix Restaurant or the informal Pegasus Brasserie and then relax in the Club Bar. Festival tickets can be arranged by the concierge but booking in advance is advised.
For best deals at Phoenicia Hotel, visit phoeniciamalta.com.
For the festival programme, see vallettabaroquefestival.com.mt.