New Marketing Suite is open for business at Brindley Rise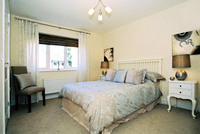 A new marketing suite has been unveiled at Walton Homes' Brindley Rise development in Rugeley following the complete sell-out of properties at the housebuilder's popular Brindley Gardens site.
The new marketing suite is located in a three bedroom, three storey 'Lichfield' townhouse at Brindley Rise and showcases the very best in three storey living. Visitors will also be able to view the stylish 'Lichfield' showhome, which starts in price at £169,950 and comes complete with stylish fixtures and fittings – including a designer Symphony kitchen and contemporary bathrooms – in addition to a spacious rear garden and two parking spaces included as standard.
Helen Rollason, sales manager at Walton Homes said: "Following the successful completion of sales on the homes at Brindley Gardens, we have relocated our marketing suite to one of the three storey Lichfield townhouses at Brindley Rise. Many people are used to the familiar layout of two-up, two-down homes and are unaware of the many benefits of three storey houses, such as the abundance of additional space on offer. The entire top floor of the Lichfield property is devoted to a luxury master bedroom with full-sized en-suite – perfect for shopping addicts who need lots of dressing space or for use as a guest bedroom for those who appreciate their privacy."
Brindley Rise remains popular amongst first time buyers, particularly with those searching for a high-quality new build home – and is available to purchase with a deposit of just five per cent.
Helen Continues: "Although we are seeing positive predictions for house prices and the housing market in 2013, people are still cautious and a deposit of up to £20,000 is for many, simply unattainable. Walton Homes is committed to developing quality homes and communities in the Midlands and a key part of that commitment is delivering homes that local people can afford. Our Lion's Share scheme does just that by cutting the deposit needed to a manageable value of just five per cent – leaving people with money spare for those all-important personal touches that really make a house a home."
Walton Homes' Lion's Share scheme is available to all purchasers at Brindley Rise, whether they are first time buyers or existing homeowners looking to move up the property ladder. Under the scheme, purchasers own 100 per cent of their home but pay just 80 per cent of the price – made up of a 75 per cent mortgage and a five per cent deposit – meaning that would-be-buyers can own a contemporary three bedroom, three storey, 'Lichfield' townhouse with a deposit of £8,498. The only requirement is that the 20 per cent interest free loan is paid back to Walton Homes when the property is eventually sold on, or after 10 years – whichever is sooner.
Located off Wharf Road, construction is well underway at Brindley Rise, which when complete will offer 61 homes comprising 37 stylish apartments and 24 three-bedroom houses, comprising one bedroom coach houses, three bedroom semi-detached homes and three bedroom three storey townhouses with parking.
The new marketing suite is located on Wharf Road, Rugeley WS15 1DW and is open to visitors from 11am to 5pm, Saturday and Sunday. For more information, visit waltonhomes.co.uk.