Booking opens for The Crash Pad Hotel at Thorpe Park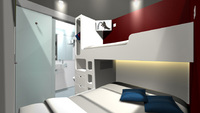 Booking for The Crash Pad at the nations Thrill Capital Thorpe Park will open on Friday 21st December 2012.
Located right inside the Park, and with some of the world's most ground-breaking and thrilling rides literally in its 'back garden', The Crash Pad presented by Snoozebox will catapult guests from dream to scream in less than 60 seconds. Comprising 58 small but perfectly formed, design-led rooms each sleeping up to four guests, the unique self contained units will boast en suite wet rooms, free wi-fi and flat screen TVs.
Perfect for a group of mates or up-for-it families, The Crash Pad which opens on 28th March 2013 will be the ultimate base from which to experience Thorpe Park's high octane rides including the UK's first winged rollercoaster, The Swarm!
And the thrills will continue well into the night, with cutting-edge entertainment and eats, including comedy shows and awesome Club Nights hosted by the likes of Ministry of Sound.
The Crash Pad will be competitively priced with packages starting at just £64 per person, per night, including two days Park tickets, selected evening entertainment and breakfast. Annual Pass Holders will be eligible for special rates.
Mike Vallis, Divisional Director of Thorpe Park, said: 'Thorpe Park is constantly evolving and pushing the boundaries with the addition of new rides but we are really excited by the next stage of the Park's development – our transformation into a short break destination. We expect The Crash Pad to be hugely popular with young people and families looking for a thrilling UK break at a low cost."
For more information or to book, visit thorpepark.com.