New Skoda logo for the Fabia and the Roomster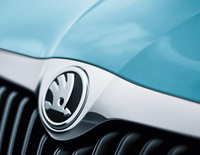 The Skoda Fabia and Roomster models will now carry the new Skoda vehicle logo and, for the first time, the Skoda lettering. The brand name and the respective model name will appear on the vehicle rear and additional designations such as TSI or TDI will now appear in a new typeface.

In keeping with its corporate design as revised in 2011, Czech carmaker Skoda is successively changing existing model lines over to its new logo. The first model to feature the revised logo was the Skoda Citigo. The new Skoda Rapid compact hatch, introduced in autumn of 2012, also bears the new logo. The Fabia and Roomster will now become the third and fourth Skoda models to receive the new logo, the Skoda lettering at the rear and the model designation in a new typeface.

The logo appears in several locations both on the outside and inside of the cars: on the bonnet, at the rear, on the centre cover of the wheels and/or on the wheel trims, on the steering wheel, the engine cover and on the vehicle key.

Another optical enhancement on the Skoda Fabia and Skoda Roomster is the new typeface for the model designation on the boot cover. Engine and additional designations such as TSI, TDI, GreenLine or vRS will also adopt the new typeface. In addition, the Fabia and the Roomster will now carry the Skoda lettering at the rear, a first for these models.

Compared to the existing logo, the new winged arrow in chrome and black appears significantly fresher and more modern as designers have focused on the essential. The winged arrow is precisely contoured and stands out in chrome on a black-matte background framed by a fine chrome line. The current laurel wreath and integrated Skoda lettering will no longer be included in the new logo.

Skoda's comprehensive revision of its corporate design underscores the brand's entry into a new growth phase two years ago. By the year 2018, Skoda aims to raise its worldwide sales to at least 1.5 million per year. The brand's new look has a modern, precise and fresh appearance and clearly reflects Skoda's new strength. The new corporate design was first presented to the public at the 2011 Geneva Auto Salon.