Bespoke 'Home of Rolls-Royce' Collection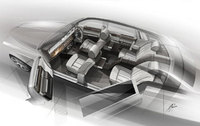 On 1 January 2013, Rolls-Royce Motor Cars celebrated 10 years of production at the Home of Rolls-Royce in Goodwood, England.

To mark this latest chapter in the marque's 108-year history, a special collection of cars, conceived and designed by the Rolls-Royce Bespoke team will be released in 2013.

The Home of Rolls-Royce Collection will celebrate the meticulous design, engineering and craftsmanship employed in the construction of every car that leaves Goodwood.

The work of the marque's world-class leather, paint and wood shops is showcased in the company's Phantom and Ghost family models. Exquisite marquetry, embroidery and hand-painted coachlines will carry specially designed Bespoke motifs that pay elegant homage to the Home of Rolls-Royce's unique position at the pinnacle of global super-luxury manufacturing.

"In 10 years, the Home of Rolls-Royce has established a reputation as the benchmark of craftsmanship excellence. These cars will celebrate the first of many decades in this extraordinary British manufacturing success story," said Torsten Müller-Ötvös, Chief Executive Officer, Rolls-Royce Motor Cars. "A fastidious commitment to perfection underlines Rolls-Royce's position at the pinnacle of super-luxury manufacturing. I look forward to introducing customers to these unique Bespoke masterpieces over the next year."

Following the release of a design sketch that gives a rare insight to the Bespoke conception and design process, further details will be revealed over the coming months telling the story of the creation of each Rolls-Royce.