Audi R8 scoops fourth successive Sporting Car of the Year Award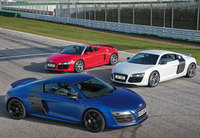 The Audi R8 remains the executive's sports car of choice according to the readers of BusinessCar Magazine, who have voted it Sporting Car of the Year for the fourth successive year in the 2013 BusinessCar Awards.

Readers of the fleet-focused magazine and its website (businesscar.co.uk) have yet again singled out the R8 as a favourite on the strength of its everyday usability and firmly established desirability amongst top level company car drivers.

Paul Barker, Editor at BusinessCar Magazine, explained why the R8 is a regular leader in this category: "Though most business cars are chosen with the head, brand image is becoming increasingly influential in the large population of company drivers able to choose their own car, and that's where the Audi R8 has a crucial role to play in showing Audi's sporting prowess and emotional appeal.

"This award shows the desire Audi has created for its products, and this kind of desirability sweeps across the range when business car drivers are selecting their next company car – even if they can't afford something as fabulous as an R8!"

The all-new Audi A3 Sportback was also recognised in the awards for the significant advances in efficiency, quality and driver appeal it now brings to company car drivers – its transformation was enough to secure it third place overall in the Business Car of the Year category.

A3 Sportback also shines through

Barker added: "An impressive weight loss programme has helped make the A3 more nimble and fun to drive than its predecessor, and has also helped lower emissions, while the cabin quality, always an Audi strength, is even better than ever."

James Douglas, Head of Fleet Sales at Audi UK, said: "The R8 has proven itself to be a fantastic all-rounder many times and, as this highly-valued award shows, its breadth of talent extends well beyond the realms of the supercar that is only suitable for weekend use. For the R8 to receive this coveted award not once, but four times in as many years is a great achievement."

The V8 and V10-powered R8 Coup and soft-top Spyder ranges have just undergone significant revisions, including new design detailing, equipment upgrades, all-LED lighting for every version and the addition of an all-new 7-speed S tronic twin-clutch transmission delivering split-second shifts for even more exhilarating performance. A new 550PS, 197mph V10 plus model has also joined the Coup range at its head.

Prices for the Audi R8 Coup start at £91,575 OTR for the 4.2-litre V8 quattro with 430PS, rising to £115,575 OTR for the 5.2 V10 quattro. The new R8 V10 plus is priced at £124,675 OTR for 6-speed manual transmission models, or £127,575 OTR with the new S tronic gearbox. OTR prices for the R8 V8 Spyder start at £100,225 and rise to £124,225 for the 5.2 V10 Spyder with S tronic.