Sing Party for Wii U now available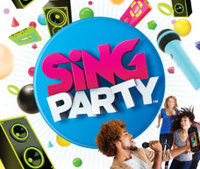 It's time to grab the Wii U Microphone and unleash your inner performer in SiNG PARTY, available now only on Wii U.
Unlike other party games, in SiNG PARTY you're not tied to the television. By reading lyrics from the Wii U GamePad you can face your audience and put on a show for them, not the TV! Your party guests can join in with your performance by singing and dancing along, getting everyone into the spirit!
SiNG PARTY comes bundled with the Wii U Microphone so you're ready to rock right away. If you're going to download SiNG PARTY from Nintendo eShop*, don't forget you'll need a USB microphone (for example the Wii U Microphone, sold separately) to play!
Sing along to 50 top tunes in teams, as a duet, or take the limelight as a solo sensation. Don't worry if your vocals aren't quite up to par – you can practise complete songs or short sections until you get them just right, ready to blow away your audience next time!
To learn more about this unique party experience, its Miiverse features and the songs that'll have you crooning and grooving away all night long, boogie on down to the official SiNG PARTY website!

SiNG PARTY is available from shops and as a download version from Nintendo eShop, only for Wii U.
*Wii U Basic Pack: Additional storage device required for download.