Mother Monster goes Gaga for Dr. Bronner's Almond Soap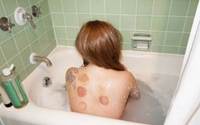 Controversial photographer, Terry Richardson has uncovered "Bad Romance" singer Gaga's bathroom beauty must-have on his blog, and you might be surprised to see that under the usual costume of crazy outfits and makeup, Gaga is just a natural girl at heart - and like the rest of us, she spends wisely to get the "Gaga Look"!
Following in the footsteps of activists and "fighting soap brand" Dr. Bronners, Lady Gaga recently collaborated with Richardson on an official film that focuses on her forthcoming third album Artpop. And now, the gay activist and meat dress auteur, has been photographed bathing in the heavenly Dr Bronner's Magic Organic Almond Liquid Soap (RRP from £1.99 for 59ml) sporting marks from a recent Cupping session. It even looks like she needs to pay a visit to her local Planet Organic pretty sharpish!
The magic of Dr. Bronner's is its 18 uses from 1 bottle of liquid soap. Best used with a cloth, towel, loofah or sponge you can use it to clean your body, your mouth & teeth, your fruit & vegetables, your bathroom and kitchen, your clothes and even your pets! It comes in nine main varieties, the original being the famous tingly Peppermint, Green Tea, - "nature's own unsurpassed fragrant Deodorant!" - followed by Lavender, Eucalyptus, Citrus, Almond, Rose, unscented Baby Mild and Tea Tree which can even be used to treat minor cuts.
Formulated with pure, high potency organic oils, free from petrochemically modified ingredients and preservatives, The liquid soap comes in nine main varieties; Peppermint, Green Tea, Lavender, Eucalyptus, Citrus, Almond, Rose, unscented Baby Mild and Tea Tree.
Lady Gaga joins fellow top celebrity A-listers, Eminem, Sandra Bullock, Gwyneth Paltrow, Drew Barrymore and most recently, Kristin Bell, as fans of Dr Bronner's - the No. 1 selling organic soap brand in the USA.
Dr Bronner's is available nationwide, including Planet Organic, Selfridges, Liberty, selected Waitrose stores, Whole Foods and at asos.com. To find your nearest stockist visit kinetic4health.co.uk. It is also available on the UK website: drbronner.co.uk.