Seat Leon Technology Pack: The brightest move you'll ever make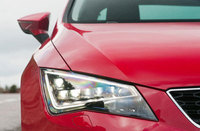 Seat has introduced an offer that will brighten the lives of new Leon buyers. By making the Technology Pack available for a dazzling £500, the most advanced in-car light technology available today has never been more affordable.

Specified as individual options, LED Headlights, Navigation System and DAB radio would together cost a buyer over £1,900, with the lamps alone a £995 option. However, in order that the maximum number of drivers can experience this illuminating technology, Seat has made them available for a staggeringly low price.

Full-LED headlamps were until now the sole preserve of the luxury car class, available as a high-priced option. In that context, and given that satellite navigation is often an option that costs more than £500 alone in all classes of car, the Seat Leon Technology Pack offer is quite incredible.

Full-LED headlamps: the clearest choice

Full-LED headlamps offer exceptional illumination, while being energy-efficient and non-dazzling to oncoming motorists. They provide the closest light to natural daylight of any headlamp on the market.

Measured by colour temperature in kelvins (K), and where natural daylight is around 5,500K, xenon headlamps measure 4,200K, and conventional halogen bulbs 3,000K. The full-LED headlamps of the Seat Leon are 5,300K – extremely close to daylight. That gives them a very bright light distribution, but one that's comfortable and that enables the eyes to very effectively perceive contrast between objects, reducing eye strain.

Amazingly, they provide this quality of light while consuming less power than traditional headlamps: 50% less than a xenon bulb while functioning on low beam. In addition, the turn indicators, which use a cluster of LEDs, use only half the power of a standard light bulb performing the same task.

The Leon full-LED light unit comprises six LED modules for the main low beam headlamp and a further three for the high beam function. The Seat signature daytime running light (DRL) uses two LEDs plus a light guide to achieve its distinctive strip effect, while the turn indicators use nine.

It's an intelligent light unit, too, featuring a useful 'highway assist' function that senses when the car is at motorway speed and lifts the light beam slightly to give the driver a further view of the road ahead.

Full-LED headlamps also avoid colour distortion, maintaining a consistently white, flicker- and colour-free beam even at the cut-off line.

And it's not just the headlamps whose operation is improved markedly by using LED technology – the LED taillights of the Leon (standard on FR models and included with the LED Headlights option) are quantifiably more effective than those that use standard bulbs: LED brake lights are 0.02 seconds quicker to react than conventional bulb-based units from the moment the brake pedal is pressed.

That difference may seem inconsequential, but any improvement in time it takes for a driver behind to see the brake lights could have a very significant, impact-mitigating effect.

And aside from being brighter, clearer and using less power – which has a positive effect on fuel consumption and CO2 emissions – LEDs are virtually maintenance-free and extremely durable, with a life of at least 10,000 hours.

Technology Pack

The inclusion of Navigation System means that Technology Pack buyers also get Seat's top-of-the-line infotainment system, Media System Plus. It links a 5.8-inch high resolution colour touch screen to a proximity sensor, so that the main functions appear on screen only when a hand moves towards it. This keeps the screen uncluttered when, for example, the navigation is in use, making it easier to read. Voice activation of the satellite navigation is another useful, safety assisting function.

This, along with the addition of DAB digital radio, makes the Technology Pack an essential purchase and shows that Seat is serious about its promise to 'bring technology to life'.

The Technology Pack offer is available with all Leon SE and FR specification cars ordered until 31 March.