How to get the best out of a holiday to Mallorca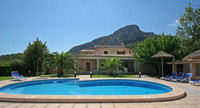 With beautiful countryside to explore, endless activities on offer and stunning beaches, it can be hard to know where to start when it comes to visiting Mallorca. To give holidaymakers a little helping hand on where to stay and when, Mallorca Farmhouses have a selection of stunning villas that each offer their own seasonal flavours of the island.
Visiting in April:
April is a beautiful time to visit with mild temperatures and the countryside thriving. A walk to discover the wild flowers blooming across the countryside surrounding the historic town of Pollença is the perfect way to soak up the stunning scenery and colourful displays of fragrant floras. The annual wine fair in Pollenca on 20 April is a popular free event and boasts wine from across Mallorca and other Balearic islands.
Roqueta (sleeps six) is conveniently located just a short walk from Pollença and a short drive from the long sandy beaches at Puerto Pollença. With three bedrooms, two bathrooms, pretty gardens and a spacious sun terrace, this stone-clad villa is an ideal retreat after a day of wine tasting and country walks. Mallorca Farmhouses are offering 15 per cent off prices in April to include Easter, starting from £511 per week, which equates to just over £85 per person.
Visiting in May:
Pretty Cala d'Or is an ideal destination for holidaymakers jetting off in May. With its gorgeous sandy beaches and fashionable marina, late spring is an amazing time to take advantage of the resort being quieter. The waters are still warming up in May but visitors can test those sea legs on boat tours, Champagne cruises and scuba diving trips. Cala d'Or is a great base for exploring the nearby Caves of Drach and hilltop villages, ancient ports and uninhabited islands can easily be reached by car.
Es Comellar (sleeps 10) is situated between Calonge and Cala d'Or providing a tranquil retreat. This family-friendly villa is close to the marina, sandy coves and beaches and features five bedrooms, four bathrooms and uninterrupted views of the countryside. Prices in May start from £1,303 per week, which equates to £130 per person.
Visiting in June:
June is the best time to beat the summer crowds, soak up the rays and get off-the-beaten-track to some of the island's more secluded beaches. Not too far from the Colonya valley are the sandy coves and turquoise waters of Cala Sant Vicenc. Boasting a backdrop of the Tramuntana mountains, this stunning resort has three golden beaches surrounded by high cliffs. June is a pleasant time for a walk in the sunshine and with breathtaking views, the rocky hillside path from Cala Sant Vicenc reaches Port de Pollença, where visitors can relax and feast in one of traditional restaurants.
Finca Rafalet Piscola (sleeps eight) is nestled in the dramatic Tramuntana mountain range and surrounded by unspoilt countryside views. This authentic farmhouse is full of character in each of its four bedrooms and bathrooms and features floor-to-ceiling windows in the dining room, traditional stone walls and a large sun terrace. Prices in June start from £2,258 per week, which equates to £282 per person.
Celebrating its 25th anniversary in 2013, Mallorca Farmhouses have perfected the family holiday and offer a variety of add-ons to ensure a hassle-free and fun-filled time is had by all. Each of its properties come with a private pool, maid service and starter pack, and nearly all have complimentary internet connection.
For further information and bookings, visit mallorca.co.uk.