Ushuaia Ibiza Beach Hotel gears up for third season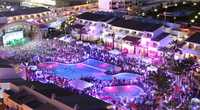 Ushuaia Ibiza Beach Hotel, the hotel that has helped revolutionise the Ibicenco summer, has announced its 2013 opening date. 25th May will kick off the Ushuaia daytime parties, which since the launch of Ushuaia in 2011, have become a permanent fixture on the Ibiza summer calendar.
Since its inauguration, Ushuaia has become a global reference for its daytime party concept, pushing Ibiza into the spotlight and generating a new breed of clubbers on the island looking for quality music, twinned with upmarket and contemporary accommodation.
The iconic main stage, positioned in front of the hotel pool, has become a meeting point for A-list DJs and party-goers including Kylie Minogue, Paris Hilton, Naomi Campbell, Adrien Brody and Bono and continues to be the most aspirational venue in the Med.
Since the closing party on 6th October last year, Ushuaia has been lining up its return to topple the expectations of even the most seasoned Ibiza visitor. Residents and artists will be announced in the coming weeks and will match the quality of 2012, which offered a sensational line-up featuring Luciano, David Guetta, Sasha, Swedish House Mafia, Avicii and Fatboy Slim, amongst others.
This season Ushuaia hasn't settled with being the established go-to place. In line with its motto 'the unexpected hotel', the venue is about to get bigger with the opening of The Ushuaia Tower, a spectacular eight floor property, which is part of an expansion project of the existing hotel development.
Ushuaia Ibiza Beach Hotel will now comprise two buildings; The Ushuaia Club (formally the original Ushuaia Ibiza Beach Hotel) and The Ushuaia Tower, offering two distinct ways to 'live' the Ushuaia experience.
The inauguration of The Ushuaia Tower is also scheduled for May 2013 and offers an alternative option for those looking for the Ushuaia experience with perhaps a little more exclusivity. The avant-guard interior will house 181 rooms and suites, many of which come complete with private Jacuzzis, enabling guests to watch DJs perform at The Ushuaia Club below whilst enjoying a cocktail in their Jacuzzi.
The Ushuaia Tower will feature the first steakhouse in Ibiza offering simple carnivorous pleasure with prime cuts and grilled classics. A new Oyster and Caviar bar will serve two of the world's finest delicacies right next to the Infinity pool, whilst the roof top Sky Lounge will offer spectacular panoramic views over the Mediterranean coastline and the exclusive daytime parties at The Ushuaia Club down below.
With this and more lined up for 2013, it leaves no doubt that summer on the White Isle will continue to set the standard for innovation, talent and entertainment.
For more information, visit ushuaiabeachhotel.com / palladiumhotelgroup.com.