World debut for the all-new Seat Leon SC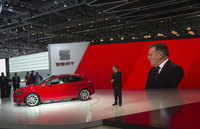 Seat has unveiled the all-new Leon SC at the 2013 Geneva Motor Show. The beautiful new three-door coupé represents the second stage of the launch of a new model family, which will by the end of 2013 comprise five-door hatchback, three-door SC, and ST estate.

This new three-door version breaks new ground for Seat – the Leon has never been available as a three-door before – and will be instrumental in increasing sales because it will broaden Seat's market coverage in the most popular segment in Europe.

Redesigned from the A-pillars back, the Leon SC is much more than simply a three-door version of the five-door Leon hatchback. With a more steeply raked rear screen, a lower roofline, broad rear shoulders including sharp blisters over the wheel arches, and a new profile for the rear three-quarter windows, the Leon SC truly has the look of a true coupé.

However, it remains extremely practical, with the same 380-litre boot capacity as the five-door Leon and outstanding front- and rear-headroom.

This morning Seat President James Muir defined the Leon SC as a vehicle "designed to be the most beautiful car in its segment," adding that it will "bring a new generation of customers to Seat."

Muir underscored the excellent reception that the five-door Leon – unveiled at the 2012 Paris Motor Show – has already enjoyed, and demonstrated the promising start to the 2013 that Seat has made. "To date we have delivered nearly 10,600 vehicles, and currently have an order-bank of 15,000 units," he said, adding that Seat "is already seeing the first signs of the product offensive launched in 2012 paying off. We face 2013 with the same energy, motivation and optimism to grow with the new products as well as increased presence in developing markets."

As is the case with the five-door version, the new Leon SC will be built at Martorell (Barcelona) using the Volkswagen Group's ground-breaking MQB platform. Compared to the five-door version, the Leon SC has a 35mm shorter wheelbase. The use of advanced materials in production makes the Leon SC the lightest vehicle in its class – it is 110 kg lighter than the second-generation Leon, and 20 kg lighter than the five-door new Leon – providing improved handling and efficiency. Like the five-door version, the Leon SC is equipped with engines ranging from 105 PS to 184 PS; from launch the Leon SC will feature the same engine and trim range as the five-door, including the 1.6 TDI 105 PS with just 99 g/km CO2, and later in the year, the rapid-yet-frugal 2.0 TDI 184 PS FR.

The new Leon SC will be in dealerships in July 2013, with order books opening in April.