New super-frugal Audi A1 and A3 'CoD' models make the cut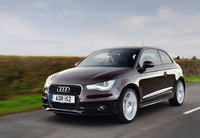 Less really is more in the new Audi A1 and A3 TFSI Cylinder-on-Demand (CoD) models, which by cutting down on unnecessary mechanical effort manage to snap at the heels of their TDI counterparts with fuel economy figures of up to 60.1mpg. Capable of making a near seamless switch between two cylinder and four cylinder operation in as little as 13 milliseconds, the advanced new petrol-powered models can cruise ultra-frugally, but also immediately draw on 140PS when required, so despite their dramatic economy gains they remain very much on the pace.

Available to order from this week priced from £16,740 OTR in the A1 and £20,055 OTR in the A3, the new 1.4-litre TFSI 140PS CoD models carry a premium of £850 over their continuing 1.4 TFSI 122PS equivalents in both ranges, positioning them as attractive alternatives to the 2.0-litre TDI variants.

All versions of the A1 and A1 Sportback are equipped initially with the seven-speed S tronic twin-clutch transmission, and all versions of the A3 and A3 Sportback with a six-speed manual gearbox. Both transmissions will however become available for all A1 and A3 CoD models later this year.

Delivering its peak 140PS output at 5,000rpm and a maximum of 250 Nm of torque between 1,500 and 3,500 rpm, the sophisticated new unit gives 0-62mph acceleration times of 7.9 and 8.0 seconds in the A1 and five-door A1 Sportback equipped with S tronic transmission. The A3 and A3 Sportback with manual transmission complete the sprint in 8.3 and 8.4 seconds. Top speeds are 132mph in all cases.

According to the official combined cycle test the Sport, S line and Black Edition versions of the A1 can return up to 60.1mpg, equating to CO2 output of 109g/km. A1 Sportback Sport versions also match their three-door counterparts at 60.1mpg and 109g/km, while S line and Black Edition versions of the five-door run them close with 57.6mpg potential and 113g/km output.

In the A3, combined economy tops out at 60.1mpg and CO2 output at 109g/km regardless of the specification chosen, with the A3 Sportback only fractionally behind at 58.9mpg and 112g/km. In all versions, an engine start-stop system cuts in when the cars are waiting at traffic lights and junctions because no-cylinder operation is even more efficient than two-cylinder operation.

Technology adopted from S and RS models

The key to this steep ascent in economy is the adoption of the cylinder on demand technology which made its debut in a similar form last year in the S6, S7 Sportback and S8, and which has also just benefited the new RS 6 Avant and RS 7 Sportback. When applied to the four-cylinder engine it shuts down the second and third cylinders under low and intermediate loads and when coasting. In order for it to do this, engine speed must be between 1,400 and 4,000 rpm, and torque between approximately 25 and 75 Nm.

Deactivation of the cylinders is performed by means of sleeves called cam elements, each of which carries two different cam profiles. When the sleeves are slipped over the camshafts by means of an electromagnetic actuator, the zero-lift profiles rotate over the exhaust and intake valves. They don't actuate the valves; the valve springs hold them closed. Injection is deactivated at the same time. Efficiency in the active cylinders 1 and 4 is increased, however, because the operating points shift toward higher loads.

As soon as the driver calls for strong acceleration by pressing hard on the throttle pedal, the sleeves are pushed back and the deactivated cylinders are activated again. All of these switching operations take place in 13 to 35 milliseconds, depending on engine speed, and are carried out virtually imperceptibly thanks to manipulation of the injection system and the throttle valve and modifications to the engine bearings, the dual-mass flywheel and the exhaust system.

Intelligent technology

The Cylinder-on-Demand technology doesn't only operate according to set parameters. Using information from the throttle pedal sensors, it determines how the driver is driving, and if it detects an irregular pattern, for instance over a series of roundabouts or on a twisting A-road, it inhibits cylinder deactivation because here it would generally only be of short duration and wouldn't save any fuel. Two-cylinder operation is also disengaged if the driver brakes, enabling all four cylinders to support braking when coasting, and if the car is travelling downhill.

More infrequent visits to the filling station and cheaper fuel prices are just two of the benefits this technology brings to the petrol A1 and A3 ranges. Business users weighing these cars up against their 2.0-litre TDI equivalents will find that with the help of their lower purchase prices and virtually identical CO2 outputs the Cylinder-on-Demand A1 models offer a 40% tax payer a benefit-in-kind saving of up to £919 per annum. Upgrading to one of their A3 counterparts brings even greater financial rewards of up to £1,044 per annum. When combined with low B and C Vehicle Excise Duty bands these figures bring petrol power very much back into contention.

In A1 and A1 Sportback models this highly beneficial new engine can be paired with Sport, S line and Black Edition specification. In the A3 and A3 Sportback, it is available in SE, Sport and S line versions.