Skoda set to become even greener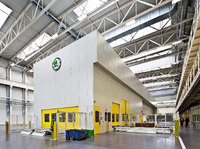 Skoda is stepping up its sustainability efforts under a new 'GreenFuture' program. The initiative, which forms an integral part of the Skoda Growth Strategy 2018 and the environmental strategy of the Volkswagen Group, will help current and future Skodas become even more fuel-efficient, and will see resources used in a more sustainable fashion.

One of the first cars to be produced under the new GreenFuture initiative is the forthcoming Octavia GreenLine. With combined fuel consumption of 86.0mpg and CO2 emissions of just 87g/km, it will be the most fuel efficient Octavia ever produced.

The drive to lower emissions and maximise efficiency also extends to Skoda's advanced production facilities. By reworking production methods and introducing new processes, Skoda aims to reduce waste and emission levels by 25 per cent per vehicle.

"Skoda has been honoring its responsibility for the environment for many years," says Skoda's Chairman of the Board, Prof. Dr. h. c. Winfried Vahland. "With 'GreenFuture' we will significantly step up and bundle our efforts for increased sustainability once more. We want to offer particularly environmentally-friendly automobiles and to manufacture and sell them in an even more sustainable fashion.

"'GreenFuture' is a clear, measurable commitment by the company and its employees towards environmental protection; we are investing in our green future. 'GreenFuture' is part of our Growth Strategy 2018 and, at the same time, an important part of the goal of the Volkswagen Group to become the leading environmentally-friendly automobile manufacturer in the world by 2018," emphasizes Vahland.

To achieve its aim of making Skoda an even more efficient operation, 'GreenFuture' pulls together three core initiatives that cover every aspect of the business: GreenProduct, GreenFactory and GreenRetail.

Since 1991, the company's direct expenditures for a sustainable use of resources have amounted to more than 410 million EUR (£348,400,000). In addition, Skoda has made investments in environmentally-friendly manufacturing processes, energy-saving facilities and the enhanced efficiency of its vehicles.

Through its GreenProduct initiative, Skoda is gearing up its efforts to make cars even more fuel efficient and even more recyclable.

In order to accomplish this goal, the Czech manufacturer and the Volkswagen Group are jointly working on modern technologies that contribute towards energy-efficient operations and decreased environmental pollution.

Skoda currently offers 48 models with emission figures of less than 120g/km, with 10 models featuring emissions of less than 100g/km. The brand is also looking to alternative fuels as a way of delivering low-emissions solutions to customers. The recently-launched Skoda Citigo CNG is powered by natural gas and enjoys CO2 emissions of just 79g/km. A new Octavia CNG is also in development and will be launched later this year.

Skoda is also continuing its research into electric cars. A test fleet of ten Octavia Green E-Line vehicles is being assessed on Czech roads with the findings being analysed with environmental partners.

Vehicle production is another key element of the 'GreenFuture' strategy. By 2018, Skoda wants to organise production in such a way that it will be 25 per cent more environmentally friendly. Within the framework of GreenFactory, the focus will be on reducing energy and water consumption and the amount of waste generated in the manufacturing of one vehicle. Likewise, emissions such as CO2 and VOC (Volatile Organic Compounds generated in small amounts during the painting of car bodies), are to be lowered by one quarter.

One current example for resource-efficient production is the new press line at the plant in Mladá Boleslav, which was commissioned at the beginning of February. The new press line works more effectively and is among the most modern facilities of its kind in Europe. It requires up to 15 percent less energy than comparable older facilities and is able to temporarily store energy not needed at the time. Together with the Volkswagen Group, Skoda invested about 66 million EUR (£57.5m) on this facility alone.

Another important factor for an environmentally-friendly manufacturer is the supply with heat and energy. For example, brown coal used for the generation of heat and energy at the Skoda plant in Mladá Boleslav will be substituted with biomass in the form of wood pellets. The CO2 emissions generated within the manufacturing process will be decreased by about 45,000 tons of CO2 per year.

The third pillar of the Skoda sustainability strategy is GreenRetail. This concerns the environmental protection in dealerships and repair workshops. Campaigns such as the 'Spring Cleaning 2012' conducted in the Czech Republic have led to the removal of 95 tons of unusable or discarded materials from the storage areas of service partners, almost 90 percent of which could be reprocessed.

Environmental protection and sustainability are key issues for Skoda. The 'GreenFuture' steering team reports directly to the Skoda Board of Management. At the same time, the manufacturer relies on the active cooperation of its approx. 26,500 employees.

One example of the high commitment of the Skoda team is the ongoing campaign 'A tree for each car sold in the Czech Republic': Since 2007, Skoda has been planting one tree for each car sold in the country. To date, about 363,000 trees have been planted, with 60,000 more expected to be introduced in 2013.