BMIHT wins Heritage Lottery Fund support for Aston Martin project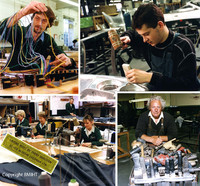 The British Motor Industry Heritage Trust (BMIHT) - based at the Heritage Motor Centre in Gaydon, near Warwick - has received a £71,000 grant from the Heritage Lottery Fund for their 'Aston Martin - A Century of Craftsmanship' project.
The 'Aston Martin - A Century of Craftsmanship' project will enable current and past Aston Martin employees to record oral histories, explaining the craftsmanship involved in making these world-famous cars. A two-year exhibition at the Heritage Motor Centre will combine the contributions of Aston Martin craftsmen and women, with never-before-seen archive material.
BMIHT are custodians of the Roger Stowers Collection donated by Aston Martin when Mr Stowers, their Company Historian, retired in 2001 after over 35-years working for the Company. The Roger Stowers Collection includes original build records, photographs, design and engineering drawings, business records and Mr Stower's own correspondence with customers including Royalty, Celebrities and documents relating to the use of Aston Martin cars in Film and TV. The Trust's Archive team have been cataloguing the Collection to make it accessible to the general public.
Reyahn King, Head of Heritage Lottery Fund West Midlands, said: "This project will give a unique insight into the car manufacturer, its workforce and its hand-built vehicles recalling years of superb design and craftsmanship."
Commenting on the award, Tim Bryan, BMIHT Head of Collections & Interpretation, said: "We are delighted to receive this generous support from the Heritage Lottery Fund which will allow us to share a valuable archive collection with a wider public audience and for Aston Martin workers to create an historical record of the craftsmanship employed in the Company's first 100-years."