Visit the 'real' Gold Coast in New York as depicted in The Great Gatsby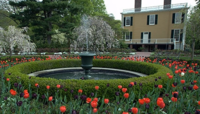 The hugely anticipated new Leonardo DiCaprio movie, The Great Gatsby, is tipped to be one of the box office hits of 2013. The latest movie adaptation of the classic novel written by F. Scott Fitzgerald is set among Long Island's rich and well heeled at the height of the 'Roaring Twenties'.
The Baz Luhrman directed romantic drama is released in the UK on May 17th 2013 and follows the life and times of millionaire Jay Gatsby played by DiCaprio. The film will also officially open this year's 66th Cannes Film Festival.
Visitors to Long Island's North Shore, just a short ride from New York City, can soak up the atmosphere of a place synonymous with uninhibited wealth and opulence as immortalised in the movie and book.
Visitors to Long Island's Gold Coast can step back in time to the 1920s ere when neighbours from America's high society sought to own the most lavish, castle-like mansions and gardens to rival those in Europe.
Many of the Gold Coast mansions that grace this scenic coastal road are open to the public and feature art galleries and tours of the properties. Visitors can also stroll the spectacular grounds and gardens enabling one to get a feel for what life was like for the privileged few.
Here are some of the architectural treasures located within a 20-mile cluster along Long Island's north shore.
Sands Point - This 216-acre preserve includes two mansions; Falaise, a Normandy style manor house, and Hempstead House, an imposing castle. The beautiful grounds feature walking paths, while the mansions provide a glimpse of outstanding architecture and design perched high on a cliff overlooking the water.
Chelsea/Muttontown Preserve - This stunning mansion is an architectural marvel, with a real moat, soaring turrets and regal design. The first floor serves as an art museum.
Coe Hall at Planting Fields Arboretum - Stroll among the 409-acre grounds of the Planting Fields Arboretum featuring many rare and beautiful species. Take a mansion tour to see the amazing tapestries, furnishings and artwork.
Coindre Hall - This 33-acre waterfront estate features a real castle-like mansion and rolling grounds that overlook Huntington Harbor.
Old Westbury Gardens - A stately mansion here called Westbury House contains 18th century furnishings and fine art inside, while the grounds boast lovely gardens. Garden and nature lovers will find inspiration in the many rare plant species and ever-changing, meticulously maintained grounds.
Frick Estate/Nassau County Museum - This neo-Georgian mansion houses the Nassau County Museum of Art, including ten galleries of world-class exhibitions. The 145-acre estate features formal gardens, reflecting ponds, outdoor sculpture and rolling meadows.
Vanderbilt Museum - Located a little further from the city than some of the other Gold Coast mansions, this is one estate not to be missed. In addition to mansion tours, this museum high on a hill and overlooking the water includes a world-class display of large game taxidermy, including polar bears and lions, in addition to marine specimens. A planetarium is also located on the grounds, so plan to stay into the evening.
For more information, visit iloveny.com.