Tracker locates stolen Aston Martin in 20 minutes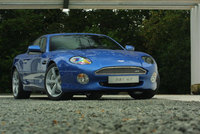 Tracker, the expert in stolen vehicle recovery (SVR), has helped police in East London jump into action to recover the rare and distinctive Aston Martin. Once the hidden Tracker unit was activated in the stolen car, the silent signal was picked up by a patrolling officer a few miles away. Using the Tracker equipment in the Police Vehicle the officer homed in on the stolen car and located it parked up nearby. The vehicle was recovered by police within 20 minutes.

"The recent theft of a very rare Aston Martin DB7 GT, in London resulted in one of Tracker's fastest recoveries in the last 12 months." says Stuart Chapman, Tracker's Police Relationships Manager. "Luckily the car was fitted with our award-winning SVR technology, which led Metropolitan Police to the stolen vehicle within 20 minutes."

Nick Spikett, owner of the stolen Aston Martin comments, "I was astonished to hear that police and Tracker had located my car so quickly. This is an amazing result. I am so pleased that I invested in Tracker to protect my Aston Martin, which is worth a lot more than this simple, but highly effective security system. I would recommend Tracker to any car owner who wants peace of mind against theft."

Stuart Chapman concludes, "Not only are we delighted for the car owner but by helping the Police get this car back intact, it shows the value of investing in one of our products. This case shows that classic cars are just as likely to attract thieves and Tracker supplies a full range of hidden SVR systems to suit all sorts of vehicles and budgets. Whether it's an Aston Martin fit for 007 or a more modest family car, we can help stop thieves in their tracks."

Tracker stolen vehicle recovery systems work like an electronic homing device. A covert transmitter is hidden in one of several dozen places around the vehicle. There is no visible aerial, so the thief won't even know it's there. Unlike other tracking systems, the device works even if the vehicle is hidden in a garage or taken abroad, offering car owners the ultimate in peace of mind should the worst happen.