Subaru wins top environmental commendation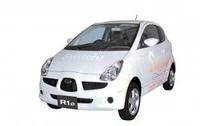 Subaru's pioneering work with electric vehicles has attracted a top award from Japan's Minister of the Environment for helping prevent global warming.
Parent company, Fuji Heavy Industries, received the '2006 Commendation For Global Warming Prevention Activity' award.
This is for developing the Subaru R1e electric vehicle in conjunction with Tokyo Electric Power Co., Inc (TEPCO) and NEC Lamilion Energy, Ltd.
FHI was commended in the technological development and commercialisation category for the jointly-developed Subaru R1e electric vehicle and its high-speed charger.
Subaru's 2+2 city car is light, efficient and ideal for metropolitan use with a battery which can be recharged in 15 minutes.
The Subaru R1e has a 50 mile range and can be initially charged for eight hours at home then fast-charged at a supermarket, ECO station or local hospital.
The car has a 62 mph top speed, weighs just 870 kg and produces 54 PS at 6,000 rpm from its electric motor, while the battery life is at least 10 years or 124,000-plus miles.
Significantly, one of the advantages of the Subaru R1e is its fuel efficiency. Daytime charging costs are half that of a typical hybrid car and if cheaper night-time electricity is used, recharging is a staggering one-fifth less than for a hybrid.
The following innovations were highlighted by Japan's Minister of the Environment as helping reduce greenhouse gas emissions:
High-density lithium-ion battery that can be quickly charged and discharged
Installed in compact high-performance electric vehicle
Convenient high-speed charger able to charge the battery to 80 per cent capacity in 15 minutes
Elimination of large quantity of heavy and bulky batteries
The Tokyo Electric Power Company now plans to have 3,000 electric vehicles running in the Kanagawa prefecture within five years supported by 150 fast-charge stations.
And as a consumer incentive, there will also be a 90 per cent reduction in car tax and purchase tax plus discounted parking and highway fees.
Meanwhile, Subaru aims to spread its ground-breaking technology by licensing to other manufacturers.