Honeymoon like a celebrity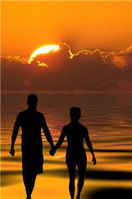 As 23-year-old Made in Chelsea star, Millie Mackintosh, announced her engagement to rapper Professor Green to the Twitter world last week, Cheapflights was inspired to hunt down the best honeymoon destinations and hazard a guess at where the happy couple are most likely to enjoy their post-wedding break. Millie is known for her love of glamorous hotels, boutiques and expensive restaurants - whilst Pro Green's love of partying is also well known!
Honeymooners can holiday in Dubai, Paris or Ibiza, regular haunts of the celebrity couple, from only £158 per couple with Cheapflights.
Cosmopolitan luxury in Dubai
The Made in Chelsea star is frequently jetting off to Dubai to top up her tan, relax on a yacht or make an appearance at the latest celebrity hang out. Dubai is the perfect luxury destination for those in search of a relaxing beach break alongside the buzz of a city. Featuring bustling shopping malls and souks, a pristine coastline, exciting excursions such as the Desert Safari - and a restaurant over 3,000 feet above the ground at the Burj Khalifa - Dubai offers endless options for honeymooners. Couples can explore Dubai's culture by day and dine in the many five-star restaurants by night. Mackintosh has regularly been spotted in Mahiki Dubai, the ultimate destination for cocktail-loving couples!
Cheapflights is offering return flights from London Heathrow to Dubai from £324 per person.
Cultural Paris
Pro Green proposed to Millie in her favourite restaurant whilst on a romantic mini-break to Paris, so will the couple re-live the moment on their honeymoon? Paris offers some of the best romantic spots in the world. Couples can climb the Eiffel Tower and look down on the city's sparkling lights, explore the gothic Notre Dame, visit the luxurious Chateau de Versailles, relax in the Luxembourg Gardens - or walk arm in arm along the River Seine.
Cheapflights is offering return flights from London Heathrow to Paris from £125 per person.
Glitz and glam in Ibiza
Pro Green performed at Ibiza Rocks in summer 2012 and the couple are well known for their love of partying. The pair have been spotted sunning themselves at the Ocean Beach Club and dancing the night away at Plastik Ibiza lounge bar and beach club.
Although Ibiza is normally stereotyped as a singles destination, the island also has a lot to offer couples looking for calm and relaxation. Romantic eateries can be found in the old town, Margaritas can be sipped alongside the marina and outside of the main towns the island is made up of rolling countryside. Ibiza also caters for those looking for activity and adventure. Honeymooners can hire mountain bikes and enjoy guided tours of the island's stunning scenery of salt lakes, forested mountains and rocky coves.
Cheapflights is offering return flights from London Gatwick to Ibiza from £79 per person.

For further information, or to book any of these offers, visit Cheapflights.co.uk.