West Midlands company in key business deal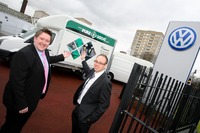 A Birmingham-based business has been boosted after securing a deal with an international company.
NCH (UK), which is based in Bilston, is a leading global provider of industrial maintenance solutions, and has instructed Volkswagen Van Centre Birmingham to provide its Pure Solve division with a fleet of ten Volkswagen Crafter Luton vans. Pure Solve offer parts washing equipment to the automotive and industrial markets in UK and Central Europe.
NCH's products include chemical specialities, fasteners, welding alloys and plumbing parts as well as maintenance supply products. The company was established in Dallas, Texas in 1919 and opened its European presence in 1964 and has since grown to be a recognised leader in the industry.
The company has purchased 40 vehicles in the past three years and has just taken delivery of a fleet of ten Crafter Luton-bodied vehicles to replace some of their existing vans.
Matt Rivers, operations manager at Pure Solve UK, said: "We wanted to acquire a fleet with an outstanding all-around performance, great residual value, but above all excellent fuel economy.
"The Volkswagen Commercial Vehicles' range meets those needs and stands out as an excellent investment.
"It's absolutely vital that we have a fleet of vehicles which can meet the high standards of reliability to enable us to provide our services."
Tony Worrall, fleet sales manager at Volkswagen Van Centre Birmingham, said: "The Volkswagen Crafter van provides commercial vehicle operators of all sizes the potential to reduce fuel and running costs.
"I am delighted that NCH has chosen the Crafter and the company will now benefit from drivers spending less time in fuel stations and more time providing customers with a service."
For further information on the Volkswagen Commercial Vehicles range, visit birminghamvwcv.co.uk.
For further information on the Pure Solve range, visit puresolve.co.uk.