microcar rally victory for UK Subaru Team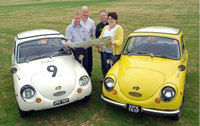 Four UK Subaru fans have returned home victorious after putting the manufacturer's original model, the 360cc microcar, to the ultimate test - a 2,000-mile rally through some of Europe's toughest terrain including Italy's Stelvio and Gavia Passes.
And not only did the 'Liege-Brescia-Liege' rally commemorate the 50th anniversary of the original but also the 50th anniversary of the launch of Subaru of Japan's first passenger car.
It is the world's only International rally for sub-500cc cars and attracted over 75 entrants, some of whom successfully travelled through Belgium, Germany, Austria, Italy and Slovenia.
However, unlike in 1958, the July 11-20 event covered 10 days instead of the non-stop three of the original, traffic congestion and posterior protection being to blame.
The UK's fearless Subaru foursome are classic car restorer and seasoned historic rally driver, James Ewing and his Designer partner Jane Puttock from Haslemere, Surrey.
They scooped 1st prize in the 'Under 425 Class' plus 'Best Lady Driver' for Jane. In addition, James and Jane came 6th in the 'Spirit 400 Class'.
The drivers of the second Subaru 360 were Managing Director, Victor Sayer from Finchampstead near Reading and Craig Lawson from Farnborough, Hampshire who is in the motor trade.
Victor and Craig came 2nd in the 'Under 425 Class' and 8th in the 'Spirit 400 Class'.
Both cars are from the 1967 and 1968 model years and are powered by two-cylinder, air-cooled two-stroke engines mounted in the rear and producing a dizzying 20 PS each – less than some single-seater petrol lawnmowers.
The newer car has a four-speed gearbox and the older a three-speed – both without synchromesh on first gear. Cruising speed is about 50 mph – on the flat, of course.
Modifications are minor but include radial tyres, up-rated shock-absorbers and overhauled brakes.
Other cars in this year's 'Liege-Brescia-Liege' rally included Italy's Fiat 500, France's Citroën 2CV, Germany's Messerschmitt, Heinkel and BMW Isetta Bubble Cars and Britain's Bond and Berkley Minicars.
Subaru's 360 microcar was never officially exported into Europe but did, perversely, find its way into the United States where some spare parts can still be found.
Launched in 1958, the Subaru 360 enjoyed a 12-year production run and sold around ¼ million units. It also showcased the first application of the now famous 'Pleiades' six-star emblem mounted on its bonnet. Updated, the badge is still used today.