Stars turn out for screening of Iron Man 3 including the Audi R8 e-tron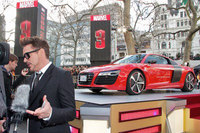 Robert Downey Jnr and Ben Kingsley were among the names who attended the big red carpet event in London's Leicester Square.
The stars of Marvel's Iron Man 3 movie were joined by a very special guest at a VIP screening of the film in London's Leicester Square on Thursday 18 April: the Audi R8 e-tron. The film, distributed by Disney, is due for general release in cinemas in the UK from 25 April.
The stunning all-electric prototype sports car is driven by Robert Downey Jr in the film. It was shipped over especially from Germany to be displayed on a specially erected plinth alongside the red carpet, where it was joined by the stars of the movie - a stellar cast including Robert Downey Jr, Rebecca Hall, Ben Kingsley and Don Cheadle.
All of the film's stars were chauffeured to the top of the red carpet by a fleet of Audi A8s, together with VIP guests including Labrinth, Estelle, Dermot O'Leary and Samantha Barks.
As well as showcasing Audi technology and sleek design with the Audi R8 e-tron, Iron Man 3 also features the Audi S7 Sportback, driven by Paltrow's character Pepper Potts, CEO of Stark Industries and girlfriend of Tony Stark. The film also includes placement of the Audi A8 L, A6, S5 Coupé and Q5 models.
To promote the movie, Audi has joined forces with Disney to launch an integrated campaign including advertising and promotional support. This is the first time Marvel and Audi have activated their global relationship on this significant level in the UK.