First time buyers can spread their wings at Chrysalis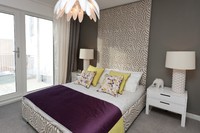 For first time buyers considering flying the family nest or leaving rented accommodation to secure a pad their own, Bellway Homes' stylish Chrysalis development is perfect for house hunting fledglings.
Located off Easter Road, Chrysalis offers a superb choice of one and two-bedroom apartments. Properties are released from a competitive starting price of £124,995 for a one apartment, comprising open plan and flexible living space, a terrace accessed off the lounge, underground parking and a secure entry system.
Aside from the dynamic design layout of each apartment and tasteful collection of contemporary fittings, furthering adding to appeal of Chrysalis is Bellway's choice of incentives, including MI New Home and 5% Deposit Paid.
Fraser Conn, Sales and Marketing Director at Bellway Homes, said: "Chrysalis is the ideal development for first time buyers in Edinburgh, as it combines a great location with an excellent choice of affordable new homes.
"We've made sure the options we have available provide considerable support to all our buyers at Chrysalis, but particularly those wanting to make the transition to owning their first home."
Implemented by the home building industry, Mi New Home aims to help overcome the difficulty caused by large deposit requirements. This initiative, open to anyone looking to buy a new property up to the value of £250,000, lets buyers secure a home with only a 5% deposit and also benefit from the availability of a 95% mortgage from participating lenders.
Under 5% Deposit Paid, Bellway provides a maximum of 5% of the purchase price as a contribution towards a buyer's deposit. The bigger the deposit purchasers can put down the better the interest rate they will receive.
Chrysalis is as appealing externally as it is internally, with the development being built around a courtyard of tended gardens. Many of the ground floor properties come with terraces and several of the upper level apartments feature balconies from which to enjoy stunning views over the city and Arthur's Seat.
Equidistant to both the vibrant shores of Leith and the cosmopolitan hub of the city centre, Chrysalis is also within walking distance of fashionable George Street and Rose Street.
For further information on the on incentives available to first time buyers at Chrysalis, visit bellway.co.uk.