Big savings with Seat's extended warranty scheme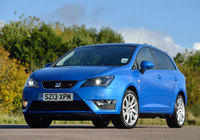 Seat is making the ownership proposition even more attractive for new car buyers with its Extended Warranty scheme.

Available with every model in Seat's range, the new Extended Warranty product gives new car buyers up to two years of additional cover, for a very good value fixed price for each model.

Every new Seat comes with a standard three-year/60,000-mile warranty, but buyers can now specify an extra one or two years' cover at a price far cheaper than a typical third-party extended warranty*.

A buyer can now choose to extend their warranty to four years/75,000 miles, or five years/90,000 miles. Cover is exactly the same as that of the standard warranty, which means there's no limit on the number of claims, no excess, and all repairs are carried out using genuine Seat parts and by qualified Seat technicians. It is also transferrable to subsequent owners.

Extended cover for Seat's best-selling Ibiza, for example, is £209 for one extra year's cover or £359 for two years, on any variant. By comparison, Seat research has shown that a typical two-year extended warranty on an Ibiza from a third-party provider costs around £750.

Across the entire Seat range the savings are significant. With a Leon, for example, a typical third party warranty covering years four and five would cost £819, whereas a Seat extended warranty is just £439 for the same period, regardless of engine or specification level.

All Seat cars are reliable and engineered to last, but in the unlikely event of a part failing between years three and five, an extended warranty could pay for itself. Anything from a malfunctioning alternator to a gearbox failure can cost hundreds – and sometimes thousands – of pounds to rectify. But with a Seat Extended Warranty, it's covered.

Seat Extended Warranty can be purchased prior to registration on any new Seat car, from any Seat dealership. Payments can also be built into the finance package of the car, spreading the cost.

"This is a fantastic, no nonsense offer from Seat at a time when car buyers are looking more than ever to get maximum value for money. For a very reasonable price, a Seat Extended Warranty ensures total peace of mind for up to five years," said Seat Service & Parts Programme Manager Anna Chudley.

"Of course, we hope that no customer ever has to use their warranty – and the vast majority won't because of Seat's excellent reliability record – but it's always good to have a back-up," she added.

For specific price examples or any other details about the Seat Extended Warranty, please contact the Seat Press Office using the details below.

*Based on research gathered by Seat from a selection of online warranty providers. Cover levels of other providers typically vary by parameters such as engine size and optional inclusions/exclusions so may not be directly comparable.