Kusmi Tea opens first London shop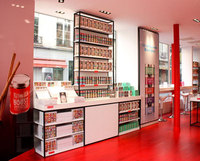 Founded in Russia 1867 and established in Paris since 1917, Kusmi Tea is opening their first London shop and tea salon on Marylebone High Street on 10th May. The prestigious Franco-Russian brand is a popular choice amongst the fashion and beauty set, and Kusmi intend to reinvent Britain's time-honoured tradition with their wide variety of blends and infusions, all presented in colourful, Baroque-style metal tins.
Ever since founder Pavel Kousmichoff's original orthodox Russian blends became the Tsar's tea of choice in St Petersburg, Kusmi has been synonymous with quality teas. An authority in Earl Grey teas, Kusmi expertly add spices and citrus to this common black tea base, celebrating the traditions of the brand's Russian roots with these exclusive blends. All ingredients are carefully selected to produce over 70 rare and fine varieties from the traditional Earl Grey and citrus fruit blends to Kusmi's unique Wellness range. Blended and packaged in France, Kusmi tea can be purchased loose, in muslin bags or in metal tins.
The shop's simplistic red and white design provides the perfect backdrop to highlight Kusmi's beautiful packaging, allowing customers to browse the shelves for their perfect blend, while Kusmi's expert staff will be on-hand to provide guidance on the must-have teas. Tucked away within the shop, the 20 cover tea salon is an ideal retreat to try out new infusions with a piece of homemade cake.
Kusmi Tea has over 30 shops worldwide including Paris, New York, Montreal, Milan and now London.