Seat introduces Leon Cup Racer at GTI Worthersee Treffen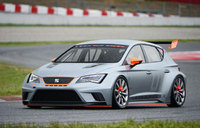 With the brand new Leon Cup Racer, Seat is stating its unequivocal commitment to motorsport and to customer racing teams at the legendary GTI Worthersee meet in the Austrian region of Kärnten.

The Leon Cup Racer gives a very clear indication of what a Seat touring car racer might look like, prepared for a wide range of racing series worldwide. The 330 PS Leon Cup Racer forms the basis for development work and test drives to be undertaken over the coming months.

The Cup Racer will be joined on the Seat stand by five more, extremely fiery and individually equipped versions of the Ibiza and Leon models.

"Motorsport is deeply anchored in our brand; Seat has more than 40 years of racing history and, with the Leon Cup Racer, we are now writing the next chapter for our highly motivated customer teams. The Cup Racer is not a show model, but the first test car for our development work," says Dr. Matthias Rabe, Seat Executive Vice-President for Research and Development.

"The new generation of the Seat Leon provides a compelling basis; its sporty qualities are highly acclaimed by customers and motoring journalists alike. With the racing version, we are building on from the great sporty success of recent years."

Unmistakeable design DNA, outstanding aerodynamics

The Cup Racer, which is based on the five-door Leon and painted in metallic matte grey with orange accents, cuts a visually stunning figure. Its incredibly powerful stance on 18-inch racing wheels comes from a track that is 40 cm wider than that of the series production model.

The new front end is laid out for optimum aerodynamic efficiency and maximum airflow to the engine and brake system, while the mighty wheel arches with their openings on the trailing edge aid the cooling effect on the four-piston brake system. The sills are heavily flared and, together with the front spoiler, the smooth under body, the rear diffuser and the two-phase roof spoiler mounted on a support, achieve maximum down force for high-speed cornering.

Yet, even in the Cup Racer, the design DNA of the Leon remains fully intact: the distinctive full-LED headlights with the highly individual signature of their daytime running lights have been carried over from the series production model, as have the LED rear lights. The roofline contour is also the same as on the production model, just like the characteristic lines and precise blisters down the sides.

Maximum control, perfect safety

The interior of the Leon Cup Racer is also ready for the track. Systematic weight reduction and a carefully minimalist approach define the inside of the car, which is protected by a high-strength roll cage. The bucket seat with HANS head-protection system also offers optimum safety.

It is upholstered with specially developed leather that is exceptionally good at regulating moisture. The base form of the production Leon cockpit is retained, although the car's driver information and controls are concentrated firmly on the multi-function steering wheel and the high-resolution TFT display behind it, ensuring that the driver always maintains maximum control over his racing machine.

Full performance for the very best lap times

Power comes from a two-litre, four-cylinder turbocharged engine. It boasts a maximum output of 330 PS and maximum torque of 350 Nm. Power transmission to the front axle is handled by a six-speed DSG dual-clutch gearbox controlled from the steering wheel and an electronically controlled differential lock. A special variant of the Cup Racer for endurance racing can be equipped with a sequential racing transmission with a shift lever on the centre console and a mechanical differential lock.

A preliminary price for the Leon Cup Racer has already been defined – the version with DSG transmission will cost €70,000 (excl. VAT), while the endurance version with a sequential transmission and mechanical differential lock is priced at €95,000 (also excl. VAT).

"We expect to be able to offer the Leon Cup Racer to our customer teams as early as the 2014 season. With the two versions for sprint and endurance racing, the Cup Racer is ideal for an extremely broad palette of racing series – from the ETTC to the VLN Endurance Cup on the Nürburgring," says Jaime Puig, Head of Seat Sport and responsible for the brand's motorsport activities. "We can also envisage further developing the Cup Racer to create a WTCC version with a 1.6-litre engine. After all, we have a great tradition to defend there."
Ibiza SC Trophy - for the race track

Alongside the premiere of the Leon Cup Racer, fans can look forward to five more of the brand's sporting highlights on the Seat stand at Worthersee. The Ibiza SC Trophy also has a licence to compete on the world's race tracks, particularly in its own single-brand cups in Spain and Italy. For the 2013 season, the 1.4-litre turbocharged engine now has 200 PS, a seven-speed DSG operated from the steering wheel and a mechanical differential lock for outstanding traction. Interested parties with a racing licence can acquire the Ibiza SC Trophy from Seat Sport starting at €31,500 (excl. VAT).
Ibiza - the compact athlete

Aside from showing a production Ibiza Cupra at Worthersee, painted in Nevada white and featuring gloss black 17-inch alloy wheels, Seat will also display an Emocion red Ibiza FR equipped with an 'FR ten-year anniversary' package. Marked out by two-tone black and silver 17-inch wheels, plus a roof spoiler, wing mirror covers and sills painted in a titanium finish, this Ibiza, named the 'SC FR Ten', sits on lower springs and has the upgraded brake system from the Ibiza Cupra.

Leon - style and individuality

Two versions of the Seat Leon display further individualisation options for Seat's successful new model: the Leon FR 1.8 TSI with 180 PS in Emocion red comes with an even more powerful look thanks to an Aero Kit including front and rear skirts. A set of 19-inch wheels offer an unhindered view of the bright red brake callipers. Inside, cockpit and steering wheel trim elements are also finished in vibrant red, while seats and door panels are clad in red and black leather.

The new Leon SC rounds off the line-up in FR guise and with the top TDI generating 184 PS under the bonnet. The 19-inch wheels and the red callipers offer a perfect contrast to the gleaming paintwork in Nevada white. The interior is finished in black and grey two-tone leather.

VIP party on the Seat boat

Organisers are estimating that this year's festival (the 32nd since it began) will once again attract well over 100,000 visitors over the four show days, and Seat will again be putting on a VIP show for Seat Club members.

The Seat boat has become a classic feature of the Worthersee Treffen. This year, too, the VIP party on the boat is one of the hottest events of the fringe programme. Throughout the entire Treffen, DJs on the Seat stand and on the Seat boat will be playing hot music while partygoers sip cool drinks. Seat dancing girls will be there, too.

The Seat movie team will also be on site. They will be making short films featuring drivers of the most distinctive tuned Seats and showing them on the Facebook page of Seat Austria.