New design, enhanced equipment and lower emissions for Volvo models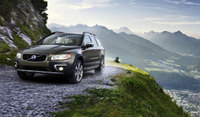 Six new Volvo models featuring revised styling, additional equipment and reduced CO2 emissions are set to arrive at dealerships nationwide.

The new Volvo S60, V60, XC60, V70, XC70 and S80 all feature new front and rear profiles plus enhanced equipment levels, including DAB radio as standard. Optional items such as integrated exhaust pipes, active TFT driver display (first featured on the V40) and the addition of new safety equipment such as the world-first Cyclist Detection help these new vehicles stand out from the competition.

R-Design versions of the S60, V60 and XC60 have also received the Volvo Special Vehicles Team treatment by taking the updated models and adding a more sports-inspired look and a re-tuned chassis. Volvo, famed for its seat comfort, has also redesigned the sports seats to offer even more support with additional bolstering, whilst also showing off the new R-Design logo embroidered on the backrest.

V40 and V40 R-Design models fitted with the 115hp 1.6-litre D2 diesel engine with manual gearbox have been further improved, benefitting from a reduction in CO2 emissions from 94g/km to 88g/km. The V40 is also now available with a new 1.6-litre petrol engine, the T2, developing 120hp and returning up to 53.3mpg (official combined cycle).

The CO2 emissions of the S60, V60, V70 and S80 fitted with the D2 engine have also been improved, resulting in a reduction in Benefit In Kind payments for drivers and 1A National Insurance Contributions for employers.
S60 D2 Manual - 114g/km to 103g/km - 15% BIK, two per cent decrease
S60 D2 Automatic - 114g/km to 107g/km - 16% BIK, one per cent decrease
V60 D2 Manual - 119g/km to 108g/km - 16% BIK, two per cent decrease
V60 D2 Automatic - 119g/km to 110g/km - 17% BIK, one per cent decrease
V70 D2 Automatic - 119g/km to 111g/km - 17% BIK, one per cent decrease
S80 D2 Automatic - 119g/km to 109g/km - 16% BIK, two per cent decrease

To support the forthcoming digital radio switchover and to ensure customers benefit from the enhanced audio clarity and available stations, Digital Audio Broadcasting Radio (DAB) will feature as standard in all of Volvo's Model Year 2014 range fitted with SENSUS.

High Performance or Premium Sound are now both standard across the entire range (except XC90 ES). Bluetooth is also standard on the same vehicles, which allows for hands-free mobile phone use and music streaming through a compatible device.

All R-Designs (except XC90) also come fitted as standard with Volvo's Active TFT Crystal Driver's Display, unique from the standard cars in that the start-up sequence displays the R-Design logo and also features blue dials.

2014 model year orders are now being taken, with first customer deliveries expected in July. Details on specification levels and pricing can be found in the price lists.

For more information, visit volvocars.co.uk.