New deep sea diving experience at Tanjong Jara, Malaysia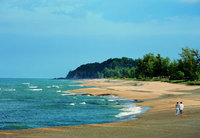 YTL Hotels has announced the appointment of a new dive operator to enhance marine experiences at its East Coast gem, Tanjong Jara Resort, Malaysia. The 99-room, 'Unmistakably Malay' luxury resort is set amongst lush tropical gardens fronting a wide golden beach on the edge of the South China Sea.
The new team is operated by Quiver; a bona fide PADI certified, five-star instructor development and dive centre with multiple locations on the East and West coast of Peninsular Malaysia. Having won numerous awards, which range from Outstanding Service to Marine Environmental Awareness and Business Performance; Quiver is also the only company to offer the PADI National Geographic Diver Course in Malaysia, making them the perfect addition to take diving at Tanjong Jara Resort to the next level. The range of marine activities operated by Quiver at the resort includes snorkelling, Discovery Scuba diving, Fun Dives, and a variety of PADI courses. The resort's three-metre deep Teratai Pool also plays host for sessions conducted by Quiver for guests to try their hand at basic Scuba diving.
Tanjong Jara Resort has unveiled a selection of new marine excursions with Quiver, taking full advantage of its location close to the pristine islands of the Terengganu Marine Park -with the park's southernmost island, Pulau Tenggol, located a mere 45-minute boat ride away. Here, guests can revel in aquamarine waters teeming with aquatic life. From brilliant nudibranchs to clown fish, spotted rays to black tipped sharks, and often even the graceful whale shark, these waters are a diver's dreams come true. Whether snorkeling or diving, a typical excursion consists visiting two to three spots a day, with a sumptuous barbecue lunch on the beach at Tenggol Island in between.
Dive season runs March through October, when the perfect weather provides ample opportunity for exploration of the magnificent underwater coral gardens of Tenggol Island. Crafted especially for diving enthusiasts, the Tenggol Divers' Delight experience is available throughout dive season and begins at MYR2000 per person based on twin-sharing with three nights accommodation. This includes daily breakfasts and dinners for every night of stay and two leisure dives per day over two days, plus rental of equipment and beachside barbecues on each excursion.
For more information or to book, visit tanjongjararesort.com.