Jaguar XF and XJ honoured in Telegraph Motoring and Diesel Car Awards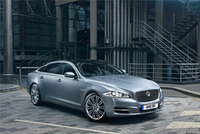 It has been a remarkable week for Jaguar as two of its prestigious models – the Jaguar XF executive saloon and the Jaguar XJ luxury saloon – receive recognition from national newspaper The Daily Telegraph and specialist automotive publication Diesel Car.

At the inaugural Telegraph Motoring Awards, the Jaguar XF beat competition from other premium car manufacturers to claim the Best Executive Car award, while the all-aluminium Jaguar XJ was named Best Luxury Car ahead of several more expensive competitor models.

Erin Baker, Head of Motoring at Telegraph Media Group, said: "Our discerning readers have always been fans of British luxury. The Jaguar XF and XJ are deserved winners, thanks in no small part to their eye-catching designs and the rewarding driving experiences they offer."

The Jaguar XF received the Best Executive Car title in Diesel Car's 2013 Car of the Year Awards, the fifth consecutive year the XF has won the award. The recently-launched Jaguar XF Sportbrake was a finalist in Diesel Car's premium estate car category, and the Jaguar XJ was shortlisted in the luxury car category.

The awards are chosen based on a stringent test programme undertaken by Diesel Car's team of award-winning writers. Announcing the win for Jaguar, Diesel Car Editor Ian Robertson said: "We're big fans of the XF, a big cat that prowls the roads with a sinuous presence."