Flappers, dappers and all that jazz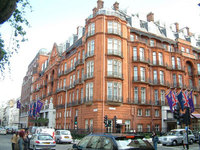 With the imminent cinematic release of The Great Gatsby, England's film, fashion and fun have been hit by a surge of 1920s fever. Here, VisitEngland introduces some of the best hotspots for indulgent glitz, glamour and good-living that would make Gatsby proud, all on this side of the Atlantic.
Looking the part
In the 1920s denim was a definite do-not; inappropriate for dazzling dames and suave gentleman. Chaps looking to secure a fine Daisy on their arm should take a leaf from Gatsby's book and join one of Guide Russell's 'The Men who made Menswear' tours of the capital. After exploring the exclusive tailoring of London's St James' and Mayfair, head for the illustrious Portobello Road Market. Many of England's top fashion designers have been inspired by their finds here, including the lavish Alexander McQueen. At One of a Kind, you can pick up an original at a vintage price and bag yourself a silver screen bargain from a bygone era.
Outside of the capital, Brighton has old school extravagance down. Take a rummage through real golden oldies at Snoopers Paradise in the distinctive North Laines - it's the 'cat's meow'! In fact, these cobbled streets are laden with antique boutiques.
With your style all set, the next step is to trade in your rusty 'jalopy' for a 'breezer' - you'll be rolling with the dolls like a true 'egg'. Vintage Classic cars has a grand array of Jaguars, Spiders and Stags for hire. What better to set you peacocking like old Jay Gatsby than a vintage car drive around the quintessentially English Cotswolds? One day hire starts from £90.
Hopping like a Hoofer
The roaring twenties are so called for their flamboyance and eccentricity: this was a time when hem lines were lifted as often as dance partners. Today, you can learn the most iconic dance of the decade, the Lindy Hop, with JiveSwing! Led by highly trained dancers, these classes reflect the light-hearted spirit of the era. Available in Essex, Hertfordshire and north London, classes cost just £5 per person.
Cheltenham offers fans of the period a full sepia-soaked day out. Beginning with a fascinator-making masterclass over breakfast, the day includes Charleston classes in the drawing room of the town hall and an evening at The Daffodil, an Art Deco cinema turned fabulous restaurant. This award-winning eatery has kept most of its traditional features, such as the red and black tiled floor, sweeping staircases and engraved daffodil mirrors. You'll be left with a nostalgic yearning to, as Fitzgerald puts it, "beat on...back ceaselessly into the past".
And the fun needn't stop there! Take the steps that you've learnt and tap your feet to the beats of England's own 'Tin Pan Alley' at Matt and Phred's Jazz club in Manchester's Northern Quarter, notable for showcasing the very best in local and international jazz.
Ice Tea (the Long Island 'speakeasy' way)
Though the 1920s are known as the prohibition period, it certainly didn't stop those pretty young things from having a good time. In fact they did it with a fierce flair. So, no excuses - adorn yourself in your finest garb and show the world that you're a 'darb'!
With all the 'Sheiks' and 'Shebas' looking spiffy, it's time to take that Big Cheese attitude and roll it down into town, leaving your glittering trail all over Brighton's hottest joint. Proud Cabaret Brighton's burlesque restaurant promises unequalled decadence, with an extensive cocktail list and indulgent décor boasting sophistication, haute cuisine and the panache of yesteryear.
Back in the capital, The Waldorf is still the place to be. This is where London learned to dance the famous Tango Teas and where you can still join in this enduring tradition. Set in the heart of Theatreland, the Good Godfrey's bar pays homage to the hotel's exuberant heritage. Once a boisterous hotspot, the bar is now a refined place to don your finest diamonds and pearls, sip Champagne and nibble canapés - it's the kind of bar where you'll find yourself next to a friend by the end of the night. Classics to be enjoyed include the Astor Hip Flask and a Hot Gin Punch.
If you're feeling more energetic, sign yourself up for a true prohibition party. Completely hidden from the beady eyes of the bulls, the location of this juice joint will only be revealed two weeks before the show. There'll be cocktails served in tea cups, live piano, DJs on gramophones, a silent cinema and even gambling tables. Expect all the sass and vivacity of the Jazz era, but keep the volume low or you else might find yourself 'on the lam' by the end of the night! The next gathering is on 10 June and the entry fee is £20.
Putting on the Ritz
Gatsby's peers certainly knew how to throw a party. This era was immortalised by rebellious young women with short hair and even shorter dresses, known as 'Flappers', and young men eager to make their mark as 'the Real McCoy'. To cater for this new class of classy, grand hotels rivalling the lustre of The Savoy and The Ritz popped up all over London, offering indulgence and luxury for those who liked to party like their lives depended on it.
The sumptuous Claridges revamped its image at this time with the help of Art Deco pioneer Basil Lonides. With its magnificent coloured-glass screens and jazz moderne mirrored foyer, the hotel is still a showpiece of the timeless elegance and the unapologetic élan that characterises the 1920s. Rooms start at £300 per night.
For the height of decadent entertaining, fans can throw a Gatsby-style blow in their very own mansion at Hunstman Court. This exquisite baronial home in the heart of the Devon countryside will host the ultimate Noveau Riche 'deb' for you across its five reception rooms, 30 bedroom suites and lush gardens. What better setting in which to wine and dine your high society friends, complete with full staff including musicians, chefs, butlers and housekeepers. Guests are free to bring their own wine, ales and spirits with no corkage. Two-night hire costs from £82pppn.
The Great Gatsby is released in cinemas across England on 16 May.
More information can be found on visitengland.com.