Nurse Plus decides to operate with Mii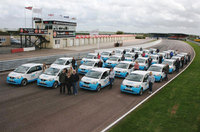 Nurse Plus, one of the UK's fastest growing recruitment agencies to the healthcare industry, has decided that when it comes to curing its travel needs, the best medicine is Mii.

The specialist in homecare services has taken delivery of a 30-strong Mii fleet – one for each of its branches nationwide.

And given the sporty nature of SEAT's city car, Nurse Plus completed the handover in the most apt fashion – by heading to Thruxton race circuit in Hampshire and having the fleet do a celebratory lap.

Nurse Plus specialises in providing healthcare professionals on a temporary or short-notice basis to hospitals, care homes and the local community, and the cars will be used by the branch network and field staff for client visits up and down the country.

That means it's imperative that the cars offer true versatility – a combination of compactness, interior space, manoeuvrability and, of course, fuel economy.

The fleet comprises five-door models, each in S specification, powered by a three-cylinder petrol engine with 60 PS. The 1.0-litre unit is smooth and surprisingly punchy thanks to a 95 Nm torque figure – yet it returns 62.8 mpg combined.

That excellent economy rating was just one of many factors in Nurse Plus's decision to choose Mii. As Heath Blake, Managing Director at Nurse Plus, puts it: "We were massively impressed by the all-round qualities of the Mii, and the SEAT brand in general, and I'm sure our branch network will enjoy the Mii becoming an essential part of their everyday life. The car has rock-solid build quality and offers great everyday fuel economy."

SEAT UK Head of Fleet and Business Sales Steve Robertson says: "That Nurse Plus would choose the SEAT Mii for its staff of branch managers is proof of the appeal and flexibility of this class-leading city car. Plenty will be demanded of these cars, and I'm sure the Mii will deliver.

"The deal is yet more evidence that SEAT is increasing its appeal in the fleet market, with a range of cars that's outstanding from top to bottom, combining the very best German engineering with unique Spanish design flair and, of course, very low running costs.

"It's no wonder that SEAT has increased its fleet sales by 50% in 2013, compared to this time in 2012," he adds.

The fleet sale was handled by Snows SEAT – the largest dealer group in the UK for the brand – in partnership with contract hire and fleet management experts, Wessex Fleet Solutions, whose director Tim McNally attributed the strong residual value of the Mii as a key factor in the Nurse Plus deal.

According to leading car valuation expert CAP Monitor, a three-year-old Mii S five-door with 30,000 miles retains 46% of its new value – which puts it right at the top of its sector for residual value. A Toyota Aygo 1.0 VVT-i 5dr of the same age and mileage, for example, retains 38%.

The SEAT Mii costs from just £7,295, rising to £10,430 for a five-door Sport model with a 75 PS engine. It is currently available from just £79 per month, including free insurance for the first year for eligible drivers aged 21 and above.