Eight hotels featured in films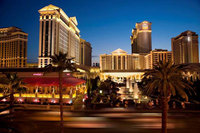 In honour of the Cannes Film Festival, the hotel search trivago has compiled a list of our favourite eight hotels featured in films. The invitation-only International Film Festival occurs annually in Cannes, exclusively previewing new films and attracting prestigious members of the film industry.
Have you ever wondered about the famous scenes of debauchery in The Hangover, or the exotic escapades of the girls in Sex and the City 2? This list will show you exactly where the stars stayed and filmed during these famous movies. From a beachside Hawaiian getaway with nine swimming pools and 40 acres of tropical gardens, to a castle hotel set in the picturesque Austrian mountains, these destinations are guaranteed to make you feel like a star for the night…
1) The Hangover: Caesars Palace, Las Vegas, USA
Who can forget Alan's unforgettable line whilst checking into Caesars Palace during The Hangover "Did, umm… did Caesar live here?" Although the famous suite where they spent the night with a baby and a tiger was created specifically for filming, it was modelled on Caesars' Forum Tower Emperors Suites. These two level suites feature swiveling widescreen televisions, wet bars, oversized spa bathtubs and unbeatable views of the Strip. The hotel also boasts no less than 19 restaurants, two casinos, a 10,000 squared feet swimming pool and impressive Roman-style décor. The Hangover Part III, released 24th May, sees Alan, Doug, Phil and Stu return to the Las Vegas Strip and this spectacular five star casino and hotel.
2) Sex and the City 2: La Mamounia, Marrakech, Morocco
Sex and the City 2: the one where Carrie, Samantha, Charlotte and Miranda go to Abu Dhabi under the guise of a PR campaign for a friend's business, and the location of Carrie's encounter with former lover Aidan. Unfortunately none of the Emirates countries would grant permission to film there, so the entirety of the exotic market, desert and bar scenes were shot in Morocco. This includes the extravagant La Mamounia hotel in Marrakech, a secluded fairytale haven of 136 rooms, 71 suites and three 700 square metre private riads. Sarah Jessica Parker stayed here during filming, taking advantage of the 8 hectares of parkland, swimming pool, spa area and four different restaurants featuring Moroccan, French and Italian cuisine.
3) The Girl with the Dragon Tattoo: Dolder Grand, Zurich, Switzerland
The Dolder Grand was featured in David Fincher's critically acclaimed mystery thriller The Girl with the Dragon Tattoo, starring Daniel Craig as Mikael Blomkvist and Rooney Mara as Lisbeth Salander. The hotel saw 60 crew and 40 extras on set during filming, and the real receptionist was given the line "Welcome to the Dolder Grand". Guests can stay in the Masini suite featured in the film, which offers two separate bedrooms with bathrooms of dark green marble, containing whirlpool baths, saunas and steam showers. The living room boasts a pool table, and the floor-to-ceiling windows and private terrace offer unbeatable panoramas of the city of Zurich and the surrounding lake and alpine scenery.
4) Ted: Midtown, Boston, USA
When Lori (Mila Kunis) finally breaks up with John (Mark Wahlberg) in Ted, John takes refuge in Boston's Midtown Hotel. His hotel room is the scene of his long-awaited confrontation with Ted, which soon turns into a brawl complete with broken television. In reality, the Midtown is a conveniently located hotel in downtown Boston, close to Fenway Park, the Museum of Fine Arts and the stylish restaurants and boutique shops of Newbury Street. The hotel features a total of 159 comfortable and spacious guest rooms, all with flat screen televisions and Wi-Fi available. Midtown Hotel prides itself for its attentive, knowledgeable and friendly staff, and there is a seasonal outdoor swimming pool and hair salon onsite.
5) Unknown: Adlon Kempinski, Berlin, Germany
Hotel Adlon Kempinski plays a large part in the psychological thriller Unknown, starring Liam Neeson and Diane Kruger. Many scenes were filmed inside the grand interior of the hotel, and the final sequence even sees the explosion and destruction of the reception area – although this was, of course, recreated in film studios. The Adlon Kempinski is an emblem of Berlin, located in the heart of the city overlooking the historical Brandenburg Gate and Pariser Platz. This five star hotel features 304 bedrooms and 78 suites, all extravagantly decorated with marble bathrooms and featuring stunning views of the Berlin cityscape. The hotel also coutains a boutique shopping arcade, swimming pool, spa area and a Michelin-starred restaurant.
6) Just Go With It: Grand Wailea, Wailea-M?kena, Hawaii
In Just Go With It, Danny (Adam Sandler) uses his best friend Katherine (Jennifer Aniston) to create a web of lies in an attempt to win the affections of Palmer (Brooklyn Decker). These deceptions lead the group to Hawaii, and more specifically to the five star resort of Grand Wailea on the island of Maui. The film paints an enticing picture of this luxurious hotel, including extravagant suites, 40 acres of luscious gardens and even dining under the stars with hula dancers and tiki torches. Grand Wailea also boasts an unbeatable beachside location, water activities, golf course and an impressive nine swimming pools, complete with waterslides and a 2,000 foot long river.
7) Wall Street: Money Never Sleeps: Millenium Hilton, New York, USA
In this sequel to the 1987 film Wall Street, a reformed Gordon (Michael Douglas) attempts to repair his relationship with his daughter Winnie, whilst the 2008 finanical crisis encircles them. The Millenium Hilton Hotel is responsible for one of the most poignant scenes in this film: Jake walks across the hotel reception with the construction site of Ground Zero clearly visible in the background. This hotel is conveniently located close to Wall Street and the Statue of Liberty, in the heart of New York City's financial district. The stylish and streamlined 55 storey building offers astonishing views of the cityscape and Hudson River, and a 24 hour fitness centre and indoor heated swimming pool are available for use.
8) What Happens in Vegas: Planet Hollywood, Las Vegas, USA
"What happens in Vegas, stays in Vegas": one of the most memorable marketing slogans of all time, and the inspriation behind this romantic comedy. What Happens in Vegas sees Joy (Cameron Diaz) marry Jack (Ashton Kutcher) during a night of drunken mistakes in Sin City, after being accidentally assigned the same hotel room in Planet Hollywood. This hotel and casino allows guests to experience the celebrity lifestyle, with each bedroom and suite featuring a unique piece of movie memorabilia and stylish furnishings. The resort also boasts a swimming pool, spa and saloon, shopping arcade and variety of restaurants, from Gordon Ramsay BurGR to a Mexican restaurant with 60 different types of tequila.
For more information on any of the hotels above, visit trivago.co.uk.