Forget the sunshine! Tapas alone brought 5.6m tourists to Spain last year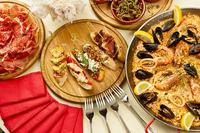 Barely a week after Spain was shown to be the dominant country in Restaurant magazine´s list of the top 50 Restaurants in the World, a new report has revealed how food tourism is becoming an increasingly important sector for the Iberian nation.

The latest statistics from Spain's tourism office show that the country´s food was thought to be a key attraction for as many as 5.6 million visitors last year, with an estimated expenditure on food and wine placed at €6.4 million representing a delicious 10% increase on 2011.

Marc Pritchard, Sales and Marketing Manager for leading Spanish house builder Taylor Wimpey Espana comments, "I've lived on Mallorca for almost 20 years now and have never tasted food quite as good anywhere else. We cater to all tastes, from family run tavernas tucked away in the hills above Palma serving the finest steaks to small fishing villages dotted along the coast offering the freshest catch of the day. And if meat or fish aren't to your taste, Spain prides itself on a variety of national dishes using home grown fresh vegetables such as Patatas Bravas, Tortilla and Berenjenas con miel, slices of aubergine, fried and covered in a dark, slightly bitter honey or molasses which are to die for.

"With such a range of gastronomic delights on offer, it's no wonder that we have experienced a whopping 123% y-o-y increase in sales in April this year with 25% of second home buyers coming from the UK, up 50% from last year!"

Indeed, it may only be 2 hours by plane from the UK but Spain offers a completely different dining experience for budding master chefs! This immensely varied landscape is home to an equally wide variety of produce and livestock and a multitude of seafood in the waters that lap the shores, from the Mediterranean to the Cantabrian Sea.

Southern areas such as the Costa del Sol in particular have plenty to offer; serving up fresh prawns with a spicy sauce, what the Andalucians know and love as gambas al pil-pil, a regional favourite. The salsa is made up of a combination of garlic, paprika, chillies, and white wine, arriving to your table sizzling and guaranteeing to get your taste buds tingling.

Costa Blancan cuisine boasts an enormous range of local products to sample such as the sticky rice that is the basis of the ubiquitous Paella which is grown in the rice fields south of Valencia. But these gastro delights aren't just restricted to the mainland; Mallorca also offers hundreds of tasty specialities from llom amb col, a pork dish wrapped in cabbage with pine nuts and raisins all grown locally, to Tumbet, a traditional rustic vegetable dish that's like a Provencal ratatouille bursting with colour and flavour.

So for those looking to make their stay in foodie heaven more permanent in exclusive Mediterranean surroundings, look no further than Taylor Wimpey Espana's brand new beachfront La Vila Paradís apartments on the Costa Blanca offering direct access to Paraíso beach in the stunning Villajoyosa area.

Beautiful sea views are complemented by carefully landscaped communal gardens and a delightful pool with a range of unique, high quality two and three bedroom apartments boasting large terraces perfect for al fresco dining starting at just €249,000.
For more information on buying property in the Costa del Sol, Costa Blanca and Mallorca, visit taylorwimpeyspain.com.